Find The Right Commercial Roofing Contractor in 3 Steps
May , 2023 | 7 min. read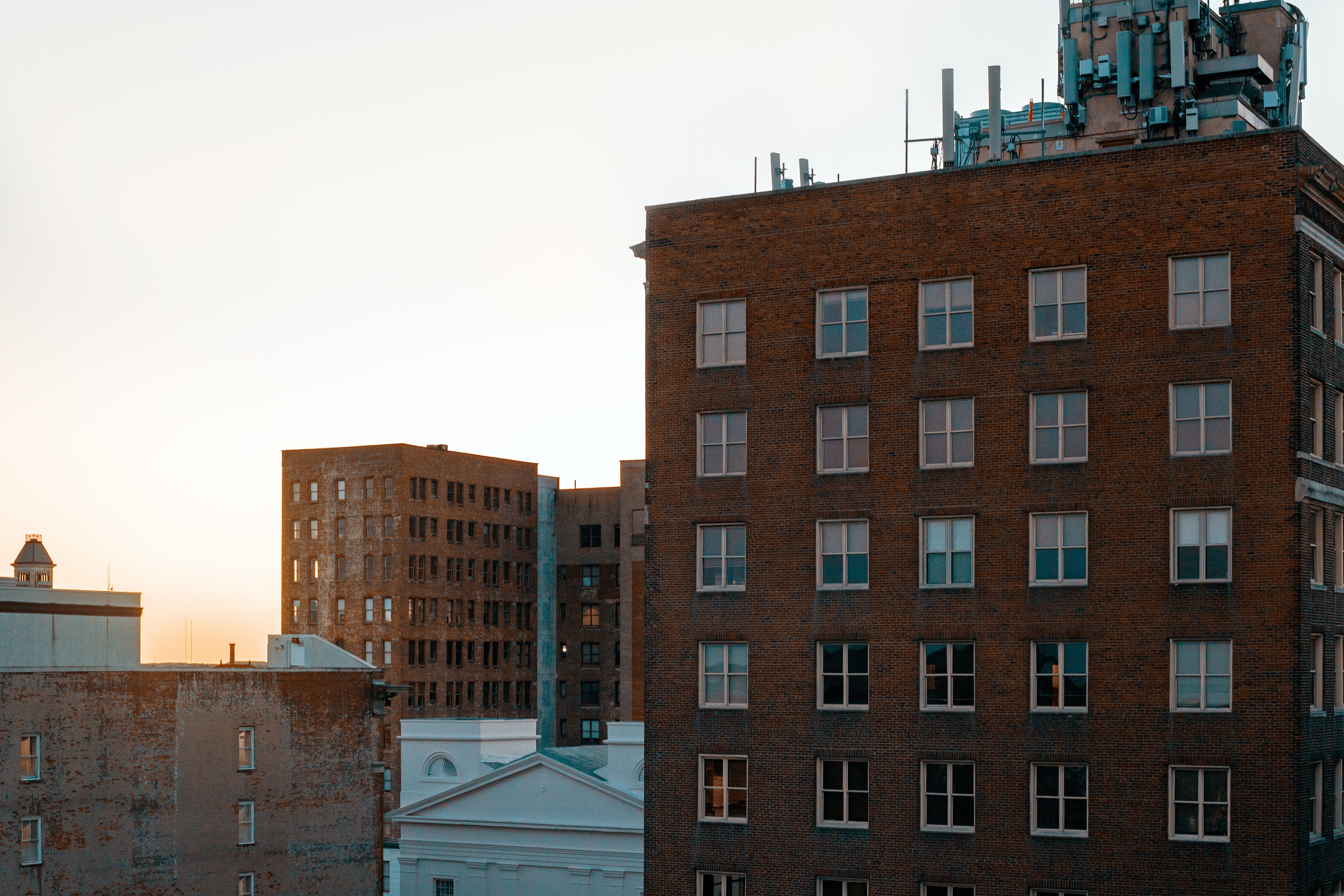 In the world of commercial business ownership, finding the perfect roofing contractor is like searching for a needle in a haystack. With so many contenders vying for your attention like it's 1999 and you're Justin Timberlake performing in front of a gaggle of teen girls, it's enough to make your head spin. But fear not, dear seeker of roofing wisdom, for I am here to guide you through this treacherous journey with wit, charm, and just the right amount of sass.
Consider me your Gandalf guiding you on the quest to Mount Doom. Did she just call me Frodo? In all seriousness, owning a commercial business is hard work, and finding the right contractor to make your business even better is a difficult task. At RoofCrafters, we've been assisting commercial business owners with all-things-roofing-needs since Timberlake's glory days, so we're pretty well versed in the needs (and also frustrations) that business owners have when it comes to securing the right roofer.
With all of those gaudy pop culture references being said, when it comes to commercial roofing, you want a contractor who is reliable, experienced, and trustworthy. By following these 3 tips, which include defining your needs, researching, and verifying credentials, you can find the right contractor for your business and protect your most valuable asset for years to come. So, let's jump right in, shall we?
How Do I Choose the Right Roofing Contractor for My Commercial Building?
Choosing the right roofing contractor for a commercial building is an important decision that can have a significant impact on the longevity and performance of your roof. You wouldn't want your roof to fall apart the same way NSYNC did, right? Here are the 3 key steps to consider when selecting a roofing contractor:
Define your needs: Determine the specific roofing needs of your commercial building. Consider factors such as the type of roof, size, complexity, budget, and any unique requirements you may have. This will help you narrow down your search and find contractors with expertise in your specific roofing needs.


Research and gather recommendations: Seek recommendations from trusted sources such as other building owners, facility managers, or industry professionals. Conduct online research to identify reputable roofing contractors in your area. Look for contractors with a proven track record, positive customer reviews, and relevant experience in commercial roofing.


Verify credentials/insurance and request multiple bids: Ensure that the roofing contractor holds all of the necessary licenses and certifications. This confirms their expertise and compliance with industry standards. Additionally, verify that they carry adequate insurance coverage, including general liability and workers' compensation, to protect against any potential liabilities during the project. Contact multiple roofing contractors and request detailed bids for your project. Make sure the bids include a breakdown of costs, materials, project timeline, warranties, and any other relevant details.
Define Your Project Needs
Defining your commercial roofing project needs is a crucial step in choosing the right roofing contractor. By clearly understanding your requirements, you can effectively communicate them to potential contractors and find a professional who can meet your specific needs. Start by determining the type of roofing system you require for your commercial building. Whether it's a flat roof, metal roof, shingle roof, or another type, each has its characteristics, advantages, and maintenance requirements. Understanding the ideal roofing system for your building will help you identify contractors with expertise in that specific type.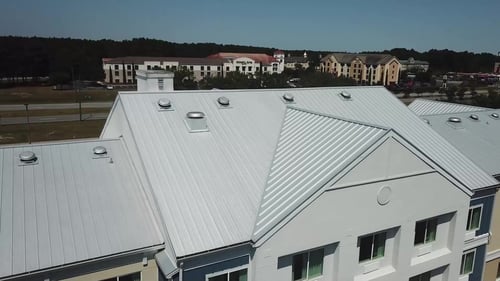 Be sure to evaluate the size and complexity of your roofing project. Consider the square footage of the roof, any architectural features, and slopes. Large or complex projects may require contractors with a higher level of skill, experience, and resources to handle the installation or repairs effectively. Most importantly, set a realistic budget for your roofing project. Establishing a budget allows you to evaluate contractors who can work within your financial range. You can be transparent about your budget, too! Be sure to request detailed proposals that clearly outline the costs involved, including materials, labor, permits, and any additional expenses. Remember, you are your own best advocate.
Do Your Research
Researching recommendations for a commercial roofing contractor involves gathering information from various sources to ensure you make an informed decision. Start by reaching out to your network; speak with other building owners, facility managers, or professionals in the industry who have experience with commercial roofing projects. Seek their recommendations and ask about their firsthand experiences with roofing contractors. Their insights can provide valuable information and help you create a shortlist of potential contractors.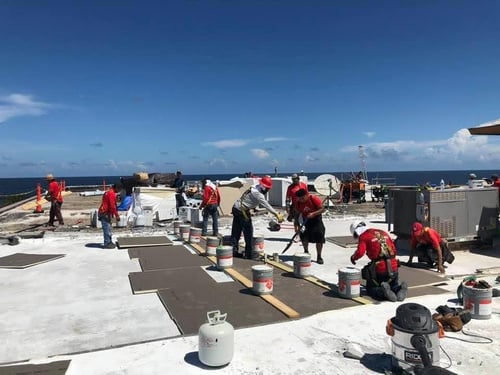 You can (and should) utilize online platforms and directories that specialize in connecting businesses with reputable contractors. Websites such as Angie's List, Yelp, and the Better Business Bureau (BBB) allow users to search for roofing contractors and read customer reviews and ratings. Pay attention to contractors with consistently positive feedback and high ratings.
While you're at it, visit the websites of the roofing contractors you're considering. Explore their portfolios, which typically showcase their previous projects. Look for projects that are similar in scale, type, or complexity to your commercial building. This allows you to assess the contractor's experience and expertise in handling projects like yours.
Verify Credentials and Request Multiple Bids
Verifying a contractor's credentials and requesting multiple bids are essential steps when choosing a commercial roofing contractor. These steps help ensure that you select a reputable and qualified professional while also allowing you to compare and evaluate different options. It is crucial to verify the credentials of a roofing contractor to ensure their expertise. Check if they hold all the necessary licenses and certifications.
These credentials demonstrate that the contractor has met specific standards and regulations. Additionally, confirm that the contractor carries adequate insurance coverage, including general liability and workers' compensation, to protect against any potential liabilities during the project.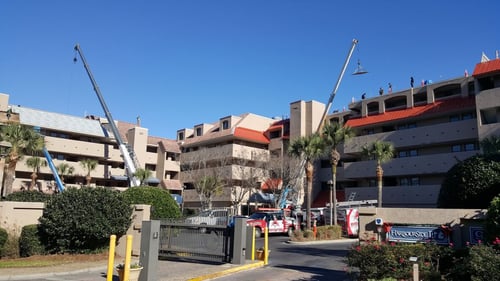 Don't be afraid to reach out to multiple roofing contractors and request detailed bids for your commercial roofing project, you're a free bird! Each bid should include a breakdown of costs, materials, project timeline, warranties, and any other relevant details. By obtaining multiple bids, you can compare the proposals and assess the value offered by each contractor. Be wary of bids that are significantly lower than others, as this may indicate subpar quality or hidden costs. Take the time to thoroughly review each bid and ask questions if any aspects are unclear. Remember that the cheapest bid may not always be the best choice, as quality and reliability are important factors to consider as well.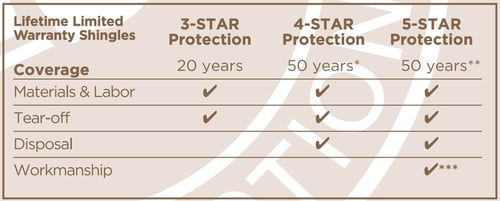 By verifying credentials and requesting multiple bids, you can gather valuable information about the contractors and their proposals. This will enable you to make a more informed decision, considering factors such as their qualifications, reputation, pricing, and the scope of work they offer. By taking the time to complete these steps, you can help ensure that you choose the right roofing contractor for your commercial project.
Ready For Your Next Commercial Roofing Project?
Finding the right commercial roofing contractor for your business is a crucial decision that can significantly impact the overall success and longevity of your property. By considering these 3 key factors and following a personalized approach, you can ensure that you hire a reliable and competent contractor who will deliver high-quality results.
As you now know, it is essential to assess the experience and expertise of potential contractors. Look for companies with a proven track record in commercial roofing projects, preferably with a portfolio that showcases their past work. A contractor with extensive experience in your specific industry or building type can offer valuable insights and tailored solutions to meet your roofing needs. Furthermore, take the time to thoroughly research and verify the credentials of any potential contractor. Check for licenses, certifications, and insurance coverage to ensure compliance with local regulations and protect yourself from liability in case of accidents or damages during the project.
A reputable contractor will readily provide this information and be transparent about their qualifications. RoofCrafters is a fully licensed, BBB-accredited contractor, providing GAF's top-tier warranties, as well as a well-rounded roofing experience to all of our commercial business clients. If it's time for your bi-yearly roof maintenance, or you're considering a roofing project, be sure to hit the "schedule an inspection" button down below, and we promise no more Timberlake-talk (maybe).
My name is Cassie, and I'm the Content Manager here at RoofCrafters. I was born and raised in Chicago, Illinois, and made my way out to Florida post-college graduation. I'm incredibly passionate about writing and creating valuable content that helps others with the collaboration of my marketing team. When I'm not working, I enjoy shopping (a little too much), spending time at the beach, and reading!