Your Top 7 Roof Replacement Insurance Questions Answered
January , 2023 | 8 min. read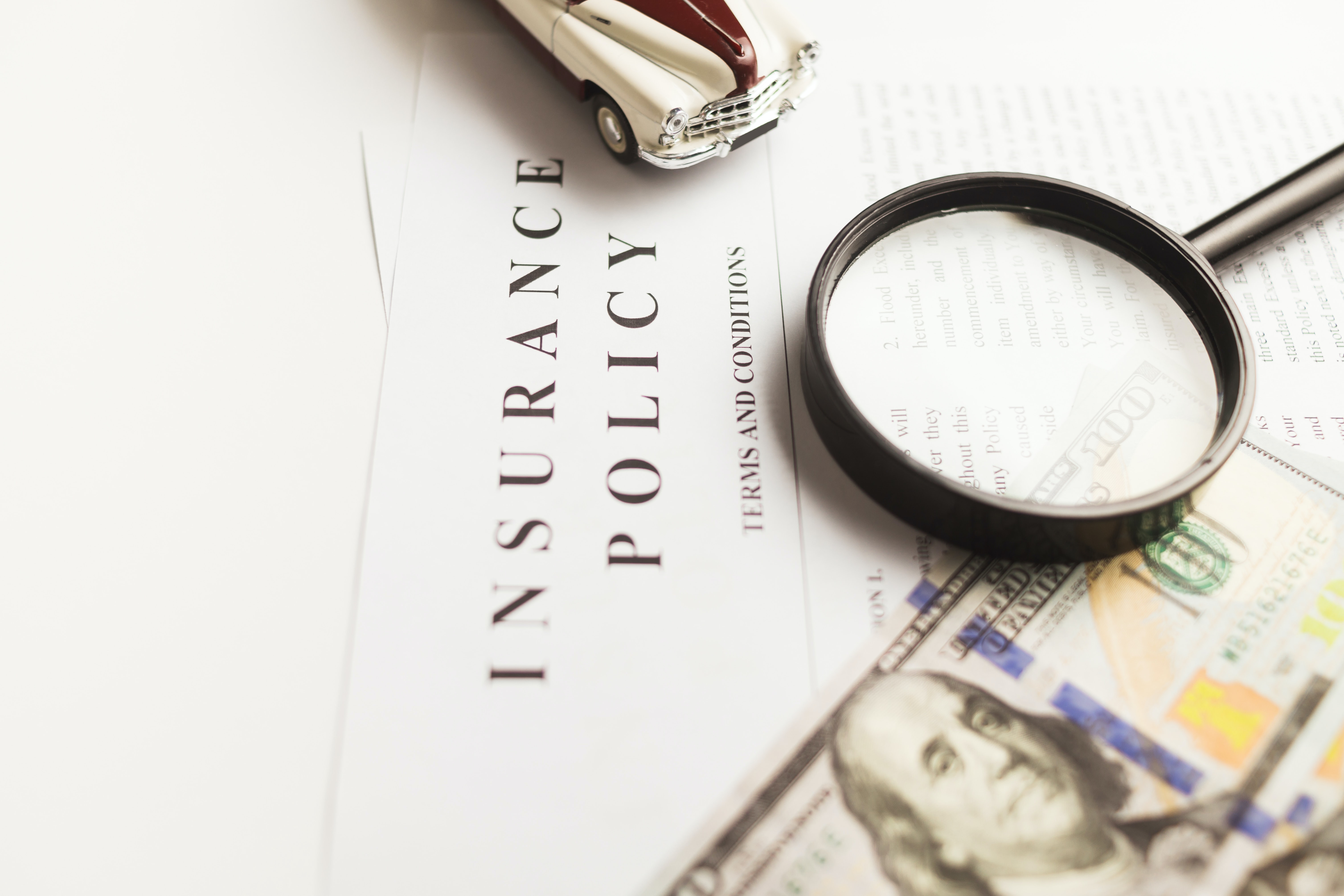 Picture this- you've just moved into your perfect new home, only to notice a ceiling leak. What do you do first? For many homeowners, this is where the anxiety sets in. I mean, isn't there a handbook somewhere for situations like this? There definitely is, but it's more likely that you don't have one (hey, we don't judge.) And then a leap down the rabbit hole of research and questions begins, causing a lot of unsettling emotions!
Depending on the source of where the leak comes from and why it started, your insurance may cover repairing it. If you're like many other homeowners, insurance policies and Q&As are an undertaking all on their own. If only there were an article that covered all the bases. *wink*
Here at RoofCrafters, we've helped homeowners tackle insurance concerns caused by roof damage since 1993. If anyone's seen all there is to know, it's us! Roofers are asked dozens of questions on a weekly basis, and the bulk of them are insurance related.
This article discusses the top seven questions you'll likely ask regarding the what, why, and how of who pays for your roofing project. By the time you finish reading, you'll have the confidence you need to navigate your roof repairs or replacement when insurance is involved. If you're ready, we're delighted to begin!
The Top 7 Roof Replacement Questions
Whether you've already been there or not, roof issues can strike fear into the core of any homeowner. The good news is insurance coverage can help you in more ways than one if you fit the criteria.
Should I Call a Roofer or My Insurance Company First?
Filing a claim on your storm-damaged roof is a fantastic idea, but you'll need a roofer's expert opinion first. When you're burdened with costly damages, call your local (and trusted) roofing contractor to inspect them. You won't need to file a claim if the damage counts for less than your deductible, and a roofer can help you determine if that's the route you should take.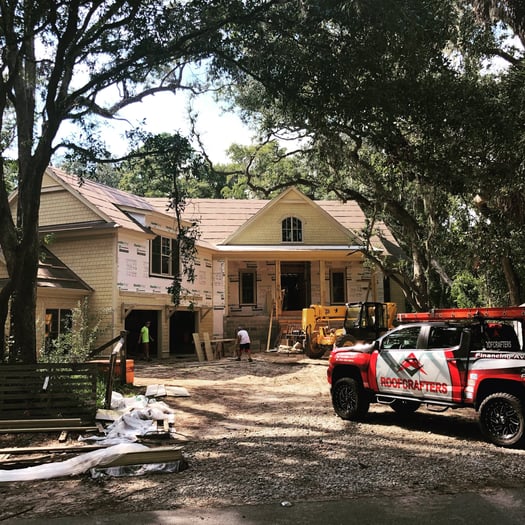 Always make sure you document your damages, though! Take photos of everything. Your insurance adjuster will consider all you've reported when deciding whether your damages warrant a roof replacement.
Is My Roof Damage Covered Under Insurance?
It could be, but that comes down to your damage and how it came about. Insurance covers storm damage in most cases; you're probably covered if it's out of your control. Cases most commonly covered by insurance are related to:
Storms, Hurricanes, and Tornadoes

Fires

"Acts of Nature"

Vandalism

Falling Objects (Tree Limbs, Hail)

Wind-driven Rain





Under certain conditions, insurance may deny coverage. Before purchasing your policy, the insurance provider you choose should review the terms and conditions, so ensure your ears are cleaned and ready to listen! You must meet specific requirements under most policies to remain eligible for coverage. Always ensure you're staying on top of damages that occur on your roof throughout its lifetime and keep documentation of every repair made. Insurance does not cover damages due to a lack of proper maintenance.
How Much Will It Cost to Have My Storm-Damaged Roof Replaced by My Insurance Company?
The total amount you pay out of pocket depends on several factors, so prepare your notes. Please keep in mind that we can't tell you exactly how much you'll pay for a roof replacement or repairs, but we can list the factors that go into final pricing.
The Contractor's Experience
1. The Contractor's Experience
A job performed correctly may mean you have to pay more, but hear us out- you're paying for craftsmanship, experience, expertise, and the best/latest equipment and tools.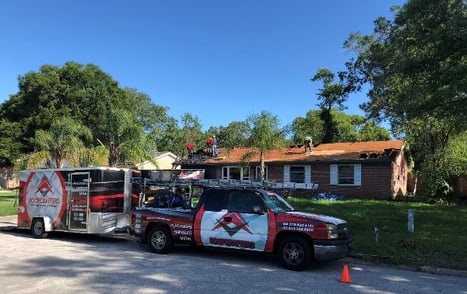 2The Extent of the Damage
2. Extent of the Damages
The cost of your roof replacement greatly depends on the severity of the damage. Repairs will be made at minimal cost for simple projects like leaks or shingle replacement. You'll pay much more for severe damages requiring a complete roof replacement.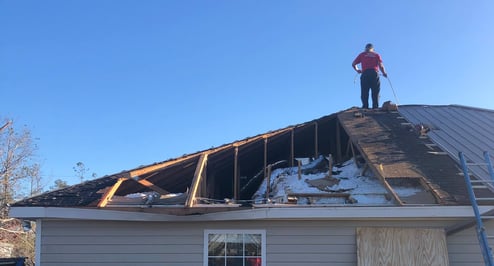 Insurance
3. Insurance
If you have homeowners insurance, you're fortunate in situations like these. Once you have your roof inspected by a professional contractor and they determine whether or not you're eligible for insurance coverage, you can breathe a sigh of relief if you're in the clear. As mentioned earlier, depending on the specifics of your damages, you could receive a full or partial replacement from your insurance provider.
4. Material Costs
Material costs vary- with asphalt shingles being among the cheapest and metal/clay being on the pricey side. You'll pay a pretty penny if you're in the market for a copper metal roof. Fortunately for you, a wide variety of options fit all budgets.
Should I Gather 3 Quotes for My Insurance Company?
Let's review a little example that'll put this question into perspective- say you decide to get three estimates. One is $26,500, the second is $20,700, and the third is $17,300. Which number do you think the insurance company will choose to pay for? Of course, the lowest.
The thing is, they owe you a new roof that's exactly like the one you had. You don't want to get cheaped out, so the answer is no. One professional roofer that has abundant knowledge of your city and state's local codes and provides optimal service is all you need.
The Roof Replacement Insurance Process: What's Involved?
Several essential steps are involved in getting a roof replacement covered by insurance. When you have your roof inspected, your contractor will give you a "yes" or "no" regarding if you should be able to make an insurance claim. Shortly after your claim is reviewed, a field adjuster is assigned your case. The field adjuster's job is to be the eyes of your insurance carrier to ensure everything goes according to plan.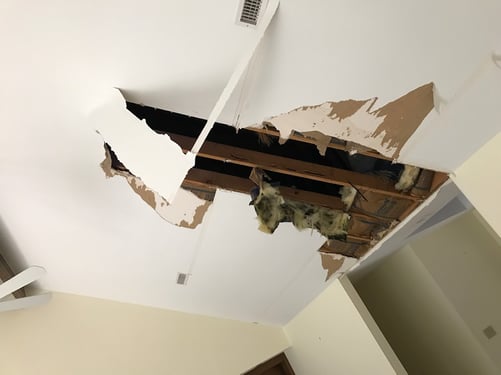 We recommend that a representative from our company is present for the initial inspection appointment. By being there, we can point out any damages and discuss local building codes required to replace your roof. Once your claim is approved (yay!), you'll receive an estimate from the field adjuster. After receiving the estimate, you'll forward it to the estimator you're working with. The estimator will review the estimate and make sure it's whole, meaning nothing was left behind. After that, you're ready to move forward with picking materials and then getting your replacement. We didn't mention a lot involved here, so we recommend checking out this article.
What Does it Mean to Supplement My Roof Replacement Claim?
Unfortunately, not all parties involved in the roof replacement process are always honest. Some insurance adjusters may purposely leave line items off claim estimates, and there are even cases of adjusters leaving off serious details like code upgrades. Supplementing your roof insurance claim means your roofer fights for you to ensure that your insurance provider covers everything your roof needs.
What Happens if My Roof Damage Claim is Denied?
Roof damage claims are denied if your adjuster determines the roof was damaged before your reported incident. If you are denied, that doesn't necessarily mean it's game over! If you believe your claim is legitimate, you're in full rights to hire a public adjuster. A public adjuster doesn't represent an insurance company- they're licensed to advocate for the public. They'll tell you if your claim is valid or not.
Is My Roof Replacement Covered Under Insurance?
It could be! It all comes down to who your insurance provider is, how and when your damages formed, and the fine print behind your coverage.
So, what's next? If you're ready to talk to an expert, RoofCrafters is stoked to assist you. We recommend checking out our comprehensive roofer checklist to help you determine the best contractor for your replacement!
At RoofCrafters, we want you to know that there are devoted professionals who can turn your old, dull roof into a piece of your home that you're proud to show off. Drop us a line on our contact page to begin a journey to having the roof of your dreams.
My name is Anthony, and I am the lead estimator of RoofCrafters' Georgia/South Carolina division. The roof is the most important part of a structure, and people count on that to protect themselves and their families. That is one of the many reasons why I love my job and enjoy coming to work every day. The continuous training, honesty, and providing the customer with the Roofcrafters experience is what makes me the best in the business.