Which Type of Asphalt Shingle is Best for My Home?
September , 2022 | 12 min. read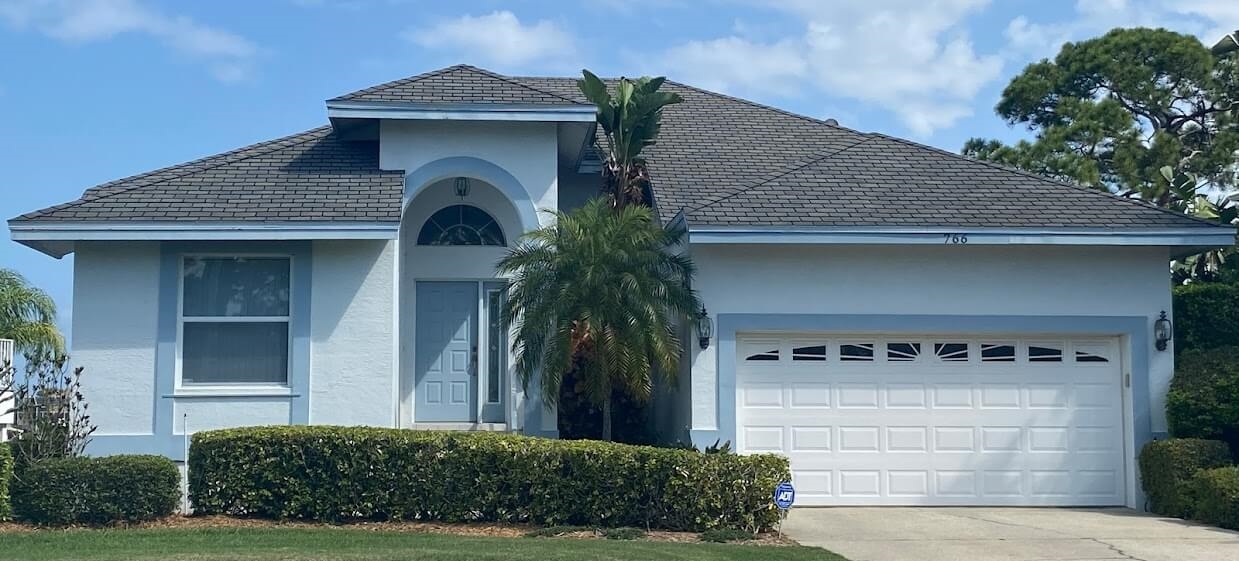 If your roof
is worn
out and you are looking for the best asphalt shingle for your home, you have come to the right place.
With all the different asphalt shingles out here, if you're like most homeowners, you're not sure which one will be best for you
.
It can be overwhelming trying to make sure you pick the right one.
RoofCrafters Roofing
has been helping residents in South Carolina, Georgia and Florida choose the best asphalt shingles
.
For 3 decades
we've helped homeowners
by educating them on the shingles that are available
. So that they're able to make a well-informed roof investment decision for their family.
We know this is an important decision for you.
We're going to share our 29 years of experience with you.
In this article, we'll go over the 4 different types of asphalt shingles.
And
hopefully
, by the end of this article, you'll be able to make a well-informed decision on "Which asphalt shingle is best for my home
?"
Choosing a roof that's best suited to your home and one that fits your design demands isn't as hard as it may seem. Sure, it may not be as easy as opening up a catalog and saying, "I want that one!" and a beautiful new roof appears out of thin air.
Although, that would be pretty cool.
But the decision doesn't have to be overly time-consuming or mentally taxing either.
Think of it as an accessory. Who doesn't love to buy a new pair of sunglasses? Or that watch that you've been eyeing for months? Just like these things, your roof is your home's accessory, and investing in a great one doesn't have to be stressful or inconvenient.
For the past 28 years, RoofCrafters has been helping homeowners choose their home's latest accessories with ease. It's so painless that you'll even want to buy a second home for the sole purpose of installing another roof. Okay, okay, maybe not. We promise you, though, the process is a breeze.
When it comes time to choose the best type of roofing for your home, there are a few different factors involved. So, we've written this article to help guide you through the decision-making process. Here, you'll learn about the 5 types of residential roofing materials available for installation and the unique qualities of each of them in order to help you decide the very best fit.
The 4 types of asphalt shingles
The 4 different types of asphalt shingles available are:
3-tab shingles
Architectural shingles
Upgraded architectural shingles
Designer shingles
All the different types of asphalt shingle provide something unique. Maybe it's a particular roof style, color, or pattern that you are looking for. Below we will show you some images and the average cost of each of the 4 styles of shingles.
Continue reading to learn the average cost along with some of the pros and cons of each of the 4 different asphalt shingle styles.
3-Tab Asphalt Shingles
3 tab shingles are often referred to as builder grade shingles, they have the least weight and lay the flattest of the 4 asphalt shingles. Named because of the 3 cutouts in the shingles, those cutouts create 3 individual shingle tabs.
If you are looking for a basic shingle roof this is the one. It is basic. The upside is that it is the most economical asphalt shingle roof on the market. The downside is that it provides the least wind protection and will need to be replaced sooner than the other shingles available.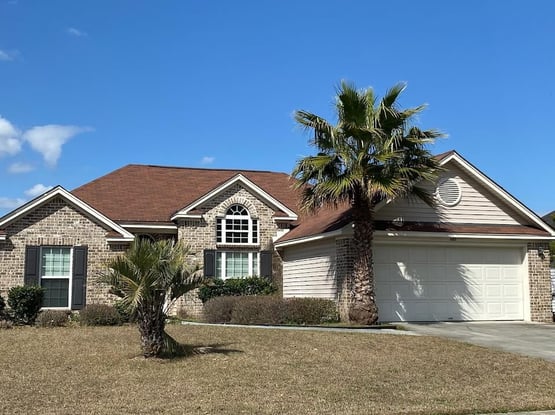 Cost: 3-tab shingles are the least expensive asphalt shingles, the average cost is $7,300 to $10,600
Aesthetics: They provide a flat slate shingle look.
Lifespan: 3-tab shingles typically last 12-15 years depending on the weather.
Protection: 3-tab is the lightest asphalt shingle. They provide the least wind protection. During a major wind event the 3-tabs shingles are at a greater risk to blow off the roof. They have a 60 mph wind rating.
View GAF 3-tab colors here.
View CertainTeed colors here.
Architectural Asphalt Shingles
Architectural shingles are sometimes referred to as laminated or dimensional shingles. Because during the manufacturing of these shingles the manufacturer laminates shingle parts together. This laminated part creates depth or provides dimension.
Fun fact, this shingle was actually designed to look like real wood shingles.
So, in my opinion, for me, the darker colors especially the brown colors look more natural because they resemble a real wood shake shingle roof more than the gray colors or lighter gray colors do. Hey, maybe it's because I know they were designed to look like wood shingles and wood shingles are brown, right!
The architectural shingle is also the most popular of the asphalt shingles used here in the United States. It'll provide a higher wind warranty and depending on weather conditions it lasts 7-10 years longer than the 3-tab shingles.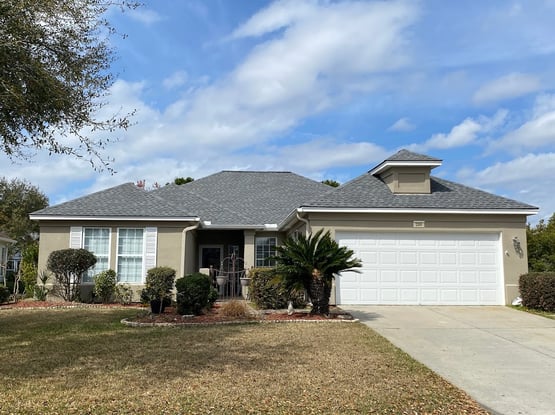 Cost: Architectural shingles typically cost around 10% to 15% more than 3-tab shingles. Average cost $11,200 to $17,100
Aesthetics: These shingles provide dimension that will give your house more curb appeal. Wood shake shingle look.
Lifespan: Most architectural roofs last 17 to 22 years with proper roof ventilation. (Why proper ventilation matter)
Protection: They can provide wind coverage up to 130 mph with the correct installation methods. Depending on which manufacturer you go with and their installation requirements.
View GAF Architectural colors here.
View Certainteed shingle colors here.
Upgraded Architecture Asphalt Shingle
There's no comparison an upgraded architecture shingle put side by side with the "regular" architectural shingle. This shingle is much heavier in weight. The extra weight makes it thicker. Which adds more definition on the roof. It'll give your roof more depth and pop. This helps add more character and provides greater curb appeal.
And It's common sense…
A heavier shingle has less chance to blow off, right?
The upgraded shingles come with a longer algae warranty. This means the black streaks won't be on your roof for a long time. No black streaks makes your home look better for a longer.
Yes, it does have more of an upfront investment. It also lasts longer and will stay on longer during a high wind storm. If you don't want a basic shingle roof or the most common asphalt shingle. And you're looking to improve your curb appeal, then one of the upgraded architectural shingles may be right for you.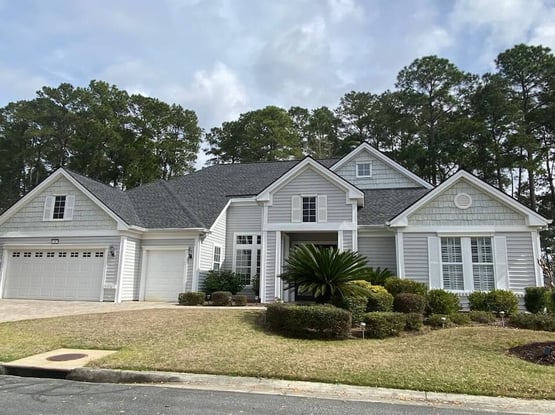 Cost: The upfront investment for the upgraded architectural shingles is 10 to 15% more than the regular architectural shingles. Average cost $13,100 to $19,000
Aesthetics: The thickness of these shingles creates a noticeable difference. It'll provide an extra pop from the street.
Lifespan: Created with more asphalt in the shingle. Upgraded shingles last 25 to 30 years.
Protection: The heavier a product the less likely it is to blow off in a major wind storm. These shingles can weigh as much as 100 lb per square foot more than regular architectural shingles. Depending on the manufacturer you decide to go with.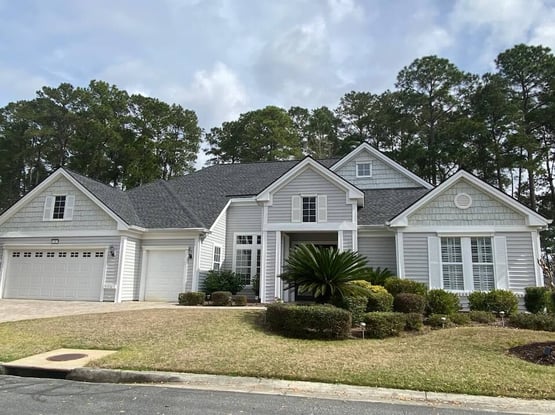 View GAF Upgraded Architectural colors here.
View Certainteed Upgraded colors options here.
Designer Asphalt Shingles
Designer Shingles or sometimes they are referred to as luxury shingles. Designer or luxury shingles are specially designed to simulate real products, such as real slate or real wood shingles. They're the heaviest of the asphalt shingles.
Because of the extra weight, these shingles will certainly be the last to blow off during a high wind storm. That's great news if you live anywhere near the coast. With Hurricanes and severe storms coming off the ocean can be expected.
If you love the extra curb appeal and having better protection in case of high wind storms. Then the designer shingles may be right for you.
Designer shingles add tremendous aesthetic value. They create amazing curb appeal with their unique one-of-a-kind designs. If you want your home to stand out from the rest. Or if you want all the neighbors to be a little jealous, this may be the right shingle for you.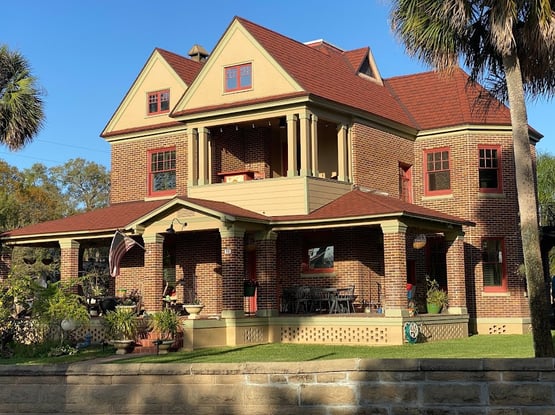 Cost: Designer roofs have the most upfront investment. They range anywhere from 20% to 25% more depending on which designer shingle you choose. Average cost $18,300 to $29,100
Aesthetics: Designer shingles are specially manufactured to provide curb appeal.
Lifespan: You can expect these shingles to last 30 to 40 years.
Protection: Being the heaviest shingle. With proper installation they'll provide an unmatched wind and protection from storms.
View GAF designer styles and colors here.
View Certainteed's styles and colors here.
Now you know the difference between 3-Tab Shingles, Architectural Shingles, Upgraded Architectural Shingles and Designer Shingles. If you found this article helpful, you may want to check out what is a roof warranty to learn more about the differences between roof material and roof workmanship warranties.
How to choose the right roofing contractor?
Whether you have a roof leak, storm damage, an older roof. What matters is that it's an important task. You want to choose the right contractor for the job. A local roofing contractor who can repair or replace your roof. So we've put together a checklist, it also includes some frequently asked roofing questions along with all the right answers. It'll help you when interviewing potential roofing partners. That way you'll be better prepared to make a great decision when choosing the roofing contractor to hire for your upcoming roof project.
If you're ready to schedule your roof inspection our team here at RoofCrafters Roofing has been providing honest and thorough roof inspections for 3 decades. You can count on our family to be transparent, and professional. You can also count on our roof estimators to provide you with an honest roof evaluation and recommendations for your shingle roof replacement. If this sounds like it would be a good fit for you, you can schedule your roof inspection here.
Or check out one of these other resources:
My name is Anthony, and I am the lead estimator of RoofCrafters' Georgia/South Carolina division. The roof is the most important part of a structure, and people count on that to protect themselves and their families. That is one of the many reasons why I love my job and enjoy coming to work every day. The continuous training, honesty, and providing the customer with the Roofcrafters experience is what makes me the best in the business.