All About Standing Seam Metal Roofing
January , 2023 | 8 min. read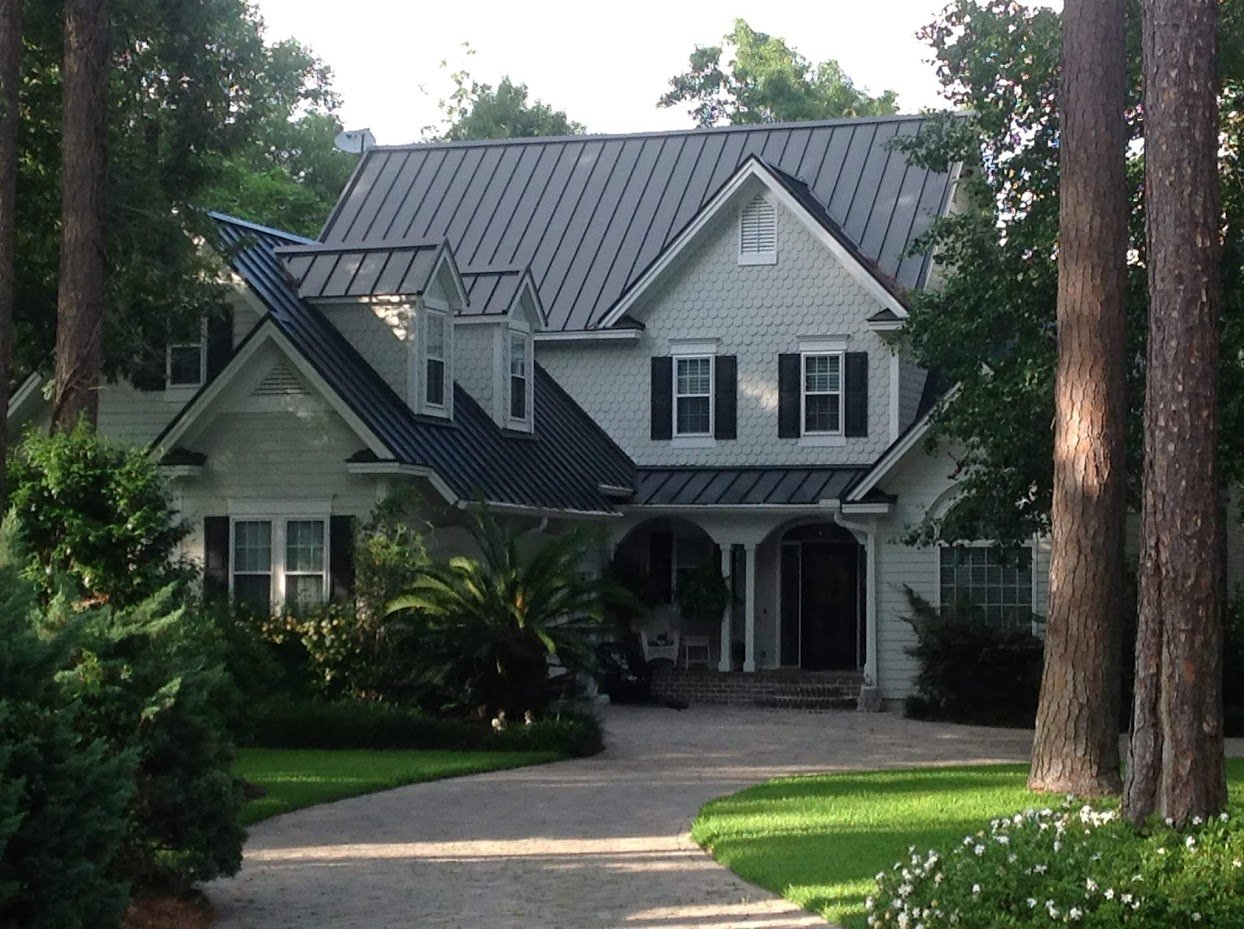 On the hunt for a new roof? How exciting! We're sure you know by now that there are many options to choose from. From architectural shingles to clay tiles, there's a roof type that suits every homeowner.
One of the great things about individuality is that every person has their own style. Though some may think houses aren't meant to be personalized, that isn't necessarily true. You can make your home look exactly how you want it to look.
Standing seam metal roofing is for the homeowner who means business. Metal roofs are strong and durable, especially when talking about standing seam roofing. However, there's much more to know about this roof type, and not all of it is perfect.
Here at RoofCrafters, we've installed standing seam metal roofing systems since 1993. Over our nearly three decades serving the Southeast, we've learned all the bits and bobs about this roofing type and are delighted to share them with you.
This article discusses everything you should know when considering a standing seam metal roof. From what it is to how long it lasts and how much it costs, we have all the details right here for you to take in. We're ready to start! Are you?
Standing Seam Metal Roofing: What is it?
Standing seam metal roofs have grown in popularity among homeowners in recent years because of their aesthetics and long life span. When gazing at this roof type, it's hard not to notice how sleek and robust it is. Modern standing seam metal roofs as we know them today sprung into development in the '60s. Over time, this roof type became popular in the building and architectural industries.

Standing seam roofing is defined as a concealed fastener metal panel system made of steel. This system features vertical legs and a broad, flat area between them. It's also known for having raised seams, or vertical legs, that elevate above the panel's flat space. Standing seam systems can be used for metal rooftops OR walls!
The main idea for standing seam systems is that the fastener stays hidden away, whether the panel is attached to the roof deck using a clip or is fastened directly to the decking material under the fastener flange.
Standing seam metal roofs have a lot to offer with very few drawbacks. Because this roof type is composed of steel, which is corrosive, they require a painted finish. Paint finish warranties can range from 20 to 45 years, depending on the thickness, panel type, and manufacturer of the materials.
The Pros
We can only mention a metal roof if we discuss its benefits- because there are so many. Standing seam roofing is quite literally a solid roof type, especially compared to other popular options, like three-tab shingles.
Lifespan
One of the most notable benefits of a metal roof is its lifespan. Metal roofs are FULL of life, meaning you won't have to replace them very often- if ever. You'll get 30 years, at the very least, out of your standing seam metal roof. Under the right conditions, though, you may even get 50 years out of it. Some sources say 50 to 80 years, but getting eighty years out of a roof is rare, to be honest.
If the finish on your standing seam roof becomes damaged during installation, the exposed steel may rust over time as it's introduced to harsh weather, meaning your roof won't last as long as it could. Keep that in mind during installation.
*Almost* Maintenance-free
A lot of people dread roof maintenance because it just isn't convenient. The great thing about this roof type is you don't have to do much to keep it happy. Every roof requires maintenance of some sort, but all you'll really have to do for this one is check around "penetrations," like gas pipes and vent pipes.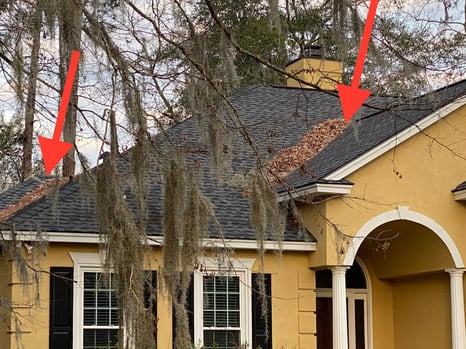 You'll also want to clean your roof of leaves and debris. If you have trees around your home, routinely check for fallen limbs or branches and sweep leaves to protect your roof from damage.
Curb Appeal
In the roofing world, you'll hear and see the term "curb appeal" a lot, and as far as we're concerned, you get it with standing seam panels. If you care about the look of your home, this is an option that's very easy on the eyes, especially if your personal style includes metal accents.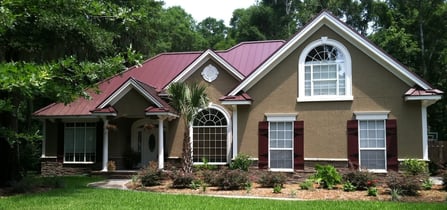 Having a standing seam metal roof installed over your home is sure to draw some eyes in your direction and make your house a favorite in your neighborhood. Metal roofs can also raise the value of a home, so it's hard to go wrong with this choice. Even though standing seam metal roofing has many pros, it still exemplifies a couple of cons worth noting.
The Cons
All good things have drawbacks, whether it's a roofing material or something else. While one option may be perfect for one homeowner, another might not see it the same way.
Costly
It's no secret that metal roofing options aren't the cheapest in the home improvement industry. In fact, standing seam metal roofs can cost up to three times more than other choices, like asphalt shingles. Because standing seam metal roofs are so cost-hefty, a lot of homeowners aren't open to this option. However, because they last for so many years, others find the price point worth it.
Ever Heard of Oil Canning?
Another potential con of this roof type happens when installers fasten the metal panels too tightly. While this still gives the metal panels room to expand longways, there needs to be room for them to grow sideways. This leads to your standing seam metal roof panels showing signs of "oil canning." This phenomenon begins with a bubbling look and eventually leads to a wavy aesthetic on the panels.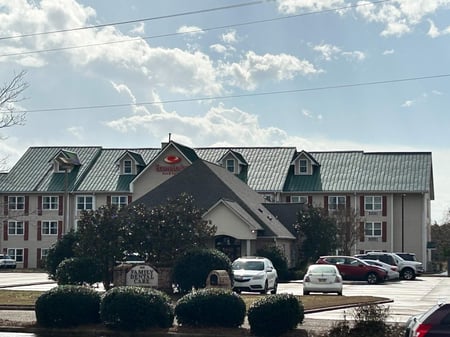 Oil canning isn't necessarily a huge problem, but it alters the panels' look. You should be fine in this department if you choose a professional roofer with a lot of experience installing standing seam metal roofs. Always select a skilled roofing contractor!
How Much Does Standing Seam Metal Roofing Cost?
As mentioned above, standing seam metal roofs have a higher upfront investment than their competitors. It takes a skilled roofer to install this roof selection correctly, and it is made of rugged and durable steel, which drives up the price.
For a standing seam metal roof on a home with two straight sides and no chimneys, skylights, or valleys, the average cost is $27,500.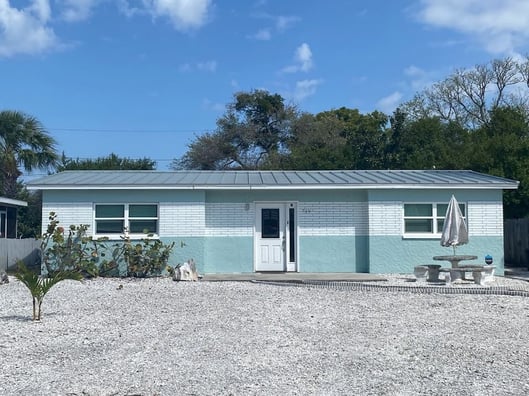 For a standing seam metal roof on a home that is more complex and has a couple of hips and valleys, the average cost is $34,900.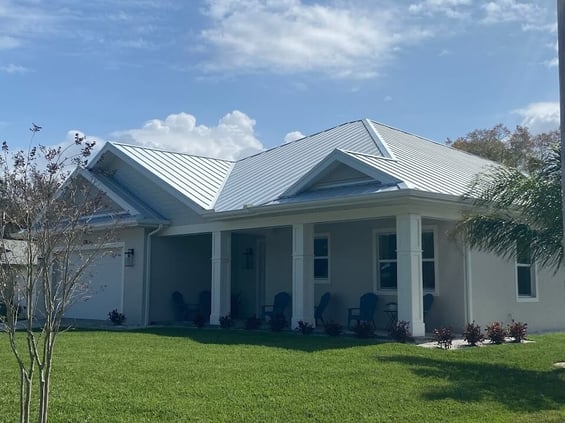 For a standing seam metal roof on a complex home with two or three stories, a chimney, walls, a skylight, and several valleys, the average cost is $42,300.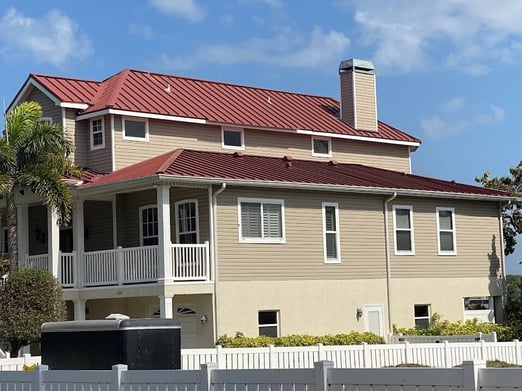 Am I Ready for A Standing Seam Metal Roof?
You might be! When comparing different roofing materials, standing seam metal almost always comes out on top. Though certain homes may not benefit from having this roof type, countless others will! This one is a winner in our book in terms of durability, longevity, and curb appeal.
Okay, so you've learned about standing seam metal roofing and what it can do for you. What's next? We need to mention that you could have the best roof in the world, but you'll still need it installed by someone who knows what they're doing. Though you may believe every roofing contractor is the same, that couldn't be farther from the truth.
The good news is, RoofCrafters has your back. Check out our comprehensive roofer checklist to help you find the perfect roofer for you. And if you're ready to get in touch with one of our friendly representatives, head over to our contact page.
At RoofCrafters, our mission is to provide job opportunities for others to thrive and grow while making a meaningful impact within our communities.