A Tree Falls on My Roof- What Next?
March , 2023 | 6 min. read
By Macie LaCau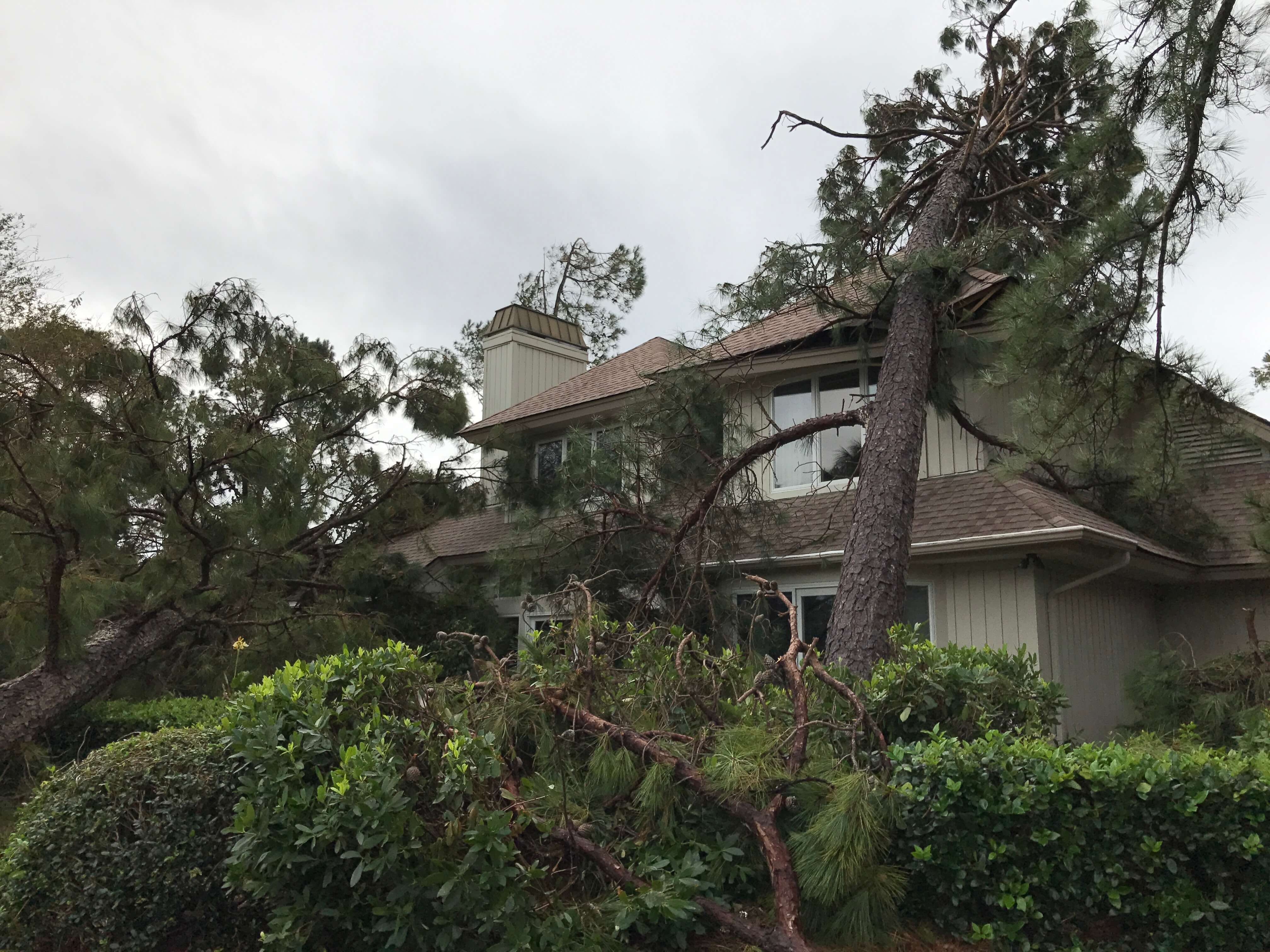 Trees are a beautiful gift given to us by nature. Some are small and lush while others tower over buildings and supply shade. If you have tall trees over your home, you probably get some much-needed shade in the warmer months that keeps your home cooler.
Trees can come with risks, however, especially types that can break easily like pines. If you're in the Southeast, you're in the land of the pines. And if you're a homeowner with large trees that hang above your roof, the article is for you.
If a severe storm hits your area, you could be at a higher risk of sustaining damage if tree canopies shade your roofing system. Any home can fall victim to tragic weather related incidents- fallen tree branches included, but some homeowners need to be extra cautious. There are several things you can do in case this does happen, and we're glad you're here to get informed.
RoofCrafters has repaired and replaced damaged roof systems for three decades and we've seen quite a few trees ravage homes. When you live in a location surrounded by trees, you have to stay vigilant during harsh weather conditions. What should you do if a tree falls on your roof?
This article is your all-you-need-to-know guide on how to handle a catastrophic situation involving your roof and a tree branch. Even if the damage is minimal, there are steps you can take to help you navigate the issue. By the time you finish reading, you'll have a better understanding of what to do and what can be done when a fallen tree causes roof damage. Are you ready to begin?
What Do I Do if A Tree Falls on My Roof?
No one can prevent storms, but we can take measures to ensure our homes last through and long after they've occurred. When it comes down to what you should do for your roof after harsh weather, sometimes the lines are a little blurry, which is why we're here to give you the scoop.
Get to Safety
First things first- if a tree falls on your roof, you should seek safety. Staying in a home with a severely damaged roof can be incredibly dangerous, especially if the roof continues to break or cave in. Finding a safe place to go until your roof is assessed and repaired or replaced is essential for the safety of you and your family.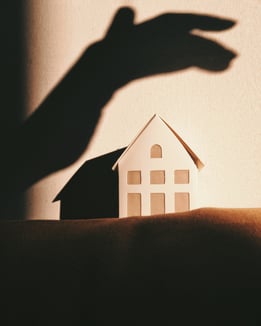 If water is finding its way into your home, cut off the power to avoid short circuits, fires, and prevent electrocution. Grab all of your important possessions, as well. This includes items like clothing, valuables, electronics and furniture. Remember- homes and material possessions are replaceable! YOU are not.
Inspect Your Home
The first thing you want to do is walk around your property and identify any damage caused by the tree(s). Check the roof for any damaged shingles or broken gutters. In many cases, your roof could be partially or fully damaged. In these cases, you want to be extra careful while checking the attic. There may be substantial water leakage into your attic or throughout your home.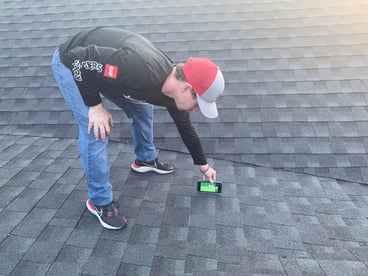 All in all, inspect the damages you see. Your landscape may be compromised, as well. Fallen trees, debris, dents in your lawn, and broken windows and doors add to the list (we don't want to scare you, but we DO want you to stay as prepared as possible.) You want to make sure that every stone is turned before calling in your preferred local storm damage contractor. The more you know about it, the smoother the process will go.
Call Your Insurance Provider
After a professional has confirmed that the repairs will exceed your deductible, it's time to call your homeowner's insurance provider. Inform them of what happened in detail! Share the pictures and assessment you took of the damage without hesitation. The insurance claim department will then send you a claim number and assign a field adjuster to your case. They'll come out and assess the damages, then begin the settlement process so that you can get your home back to its pre-storm damage condition. Cue sigh of relief.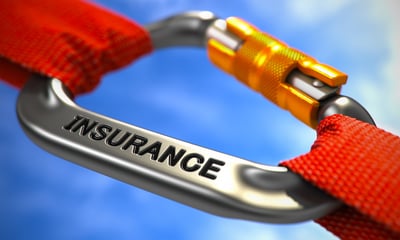 Document Any Damages
Take photos (and even videos) of any damage you can see! Documentation is essential in the insurance claim process. After you've done that, get your homeowner's insurance paperwork handy. Having everything together will help make it easier to file a claim through your homeowner's insurance.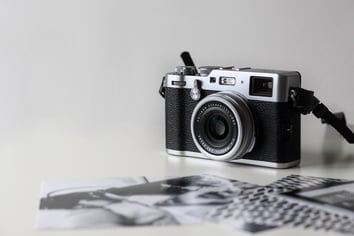 Being proactive with this can go a long way, so keep this vital step in mind before getting in touch with your local storm damage roofing contractor. If you are unsure of roof damage, we recommend that you call your chosen roofer prior to filing a claim with your insurance provider. They'll come out, inspect your home, and give you an assessment of the damages. Use your resources!
Get Immediate Repairs
Pick a reputable contractor that has experience with doing insurance claim work. Professional storm damage contractors are not only experienced in insurance mitigation, but they're also efficient, prompt, and helpful in reducing the overall stress that happens after your home receives tree damage. Most experienced contractors coordinate directly with your insurance provider as well, reducing the added stress of ensuring that everything falls into place to avoid leaving any information off the claim.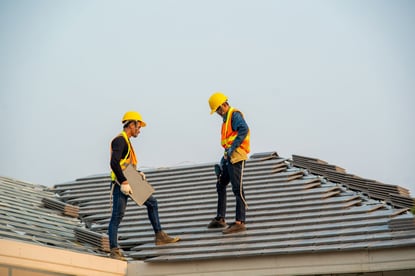 Tip: Please take caution to scammers- often called door knockers/storm chasers. There are a lot of service providers that aren't certified and seek to benefit from vulnerable homeowners after severe weather events. If any service provider asks for payment upfront, avoid hiring them because they don't have your best interest in mind. Stay vigilant!
Should I Have My Tree-Damaged Home Assessed?
Yes! If your roof sustained damage from a fallen tree branch, your home should undergo inspection immediately. Your home is where you lay your head at night and where your family blooms; it must be a safe environment! Even if the damage is minimal, it's better to take care of it sooner rather than later.
If you're ready to talk to an expert about potential roof damage, there are professional roofers who are more than excited to walk with you as you navigate through the process! Not all roofers are going to give you the most optimal experience out there, though, so ensure you do as much research as possible. With a little time and some digging, you'll find a roofer that can give you the roof repair or replacement you've always dreamed of.
So, you now know what to do if a tree damages your roof, but maybe you want to learn a bit more about other types of storm damage. Check out our learning center to read up on different types of storm damage and what to expect from them. There's enough information to keep you prepared! And once you've decided you're ready contact roofer, check out our comprehensive checklist to determine what you should look out for before your next roofing project. To get in touch with one of our friendly RoofCrafters representatives, head over to our contact page.
Macie is a native Georgian who spends her days nurturing her passions and embracing the quiet life. With a penchant for taking the road less traveled, she loves discovering new ideas, rooting for the underdog, and taking the long way home. She enjoys spending time with family and friends, writing, and homesteading.