What Is a Synthetic Slate Roof?
March , 2023 | 5 min. read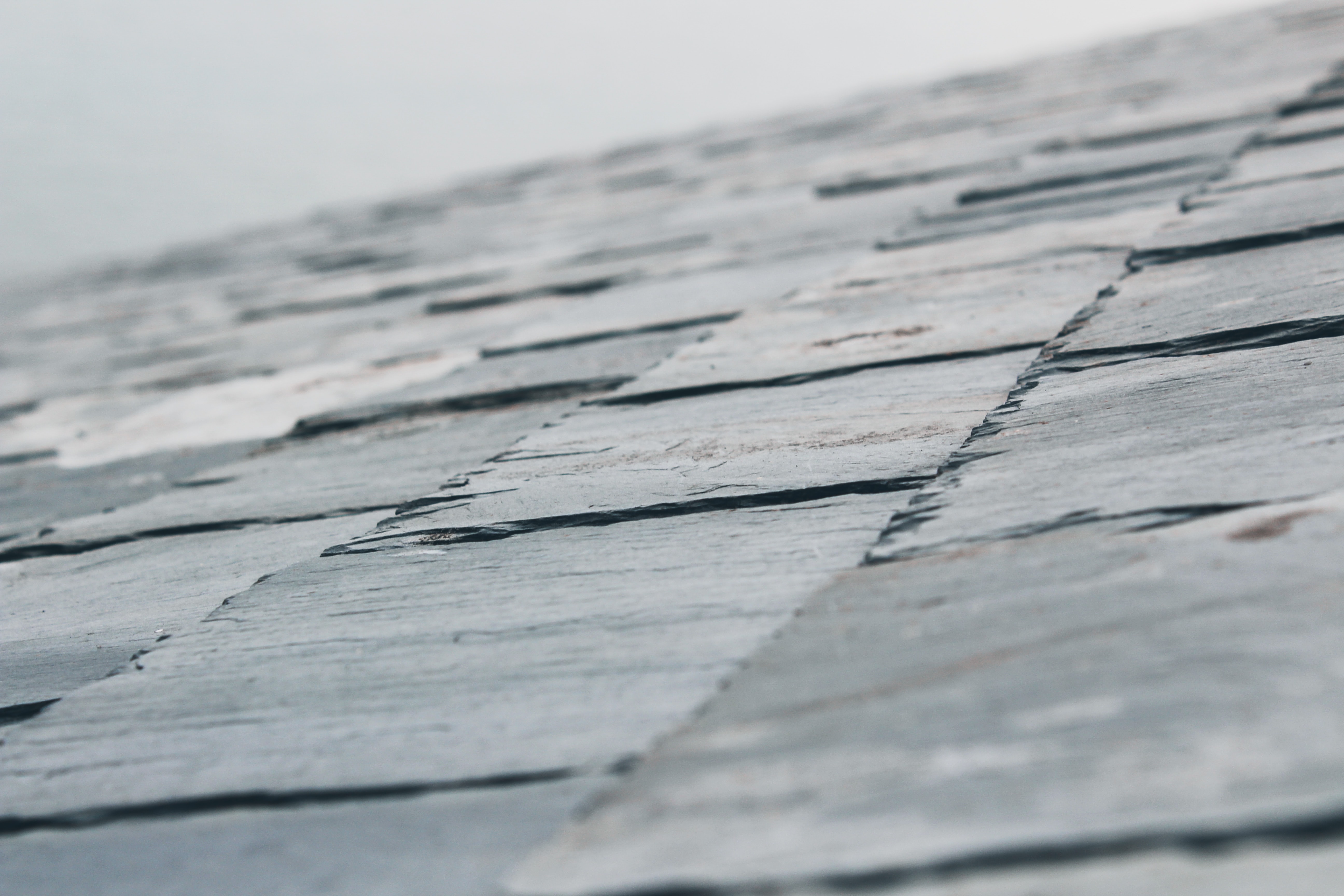 Luxury roofing is a dream for many homeowners but is seen as a reality for only the truly fortunate. Surely, you've seen them around your town and maybe even in your neighborhood: the homes with sleek slate roofs radiating their rich beauty, casting curb appeal you didn't even know was possible. While these homes are often focal points for jealousy, what if I told you that you could have the same roof installed on your home for a fraction of the price?
That's right, thanks to new technologies and advancements in the roofing industry, a couple of really smart folks have figured out a way to create that luxurious slate and even cedar roofing looks out of synthetic materials. So long are the days of breaking the bank over premium materials to get the look of luxury roofing. RoofCrafters has been in the synthetic roofing game for over 29 years now, and there's nothing we love more than providing homeowners like you with a budget-friendly dream roof.
If I've piqued your interest in synthetic slate roofing and you're curious to learn more, it's a good thing you're here. In this article, I'll be discussing what a synthetic roof is, the different types of synthetic roofing, the associated costs, and why many homeowners today are opting for synthetic roofing over the real deal. So, let's get started!
What Is a Synthetic Slate Roof?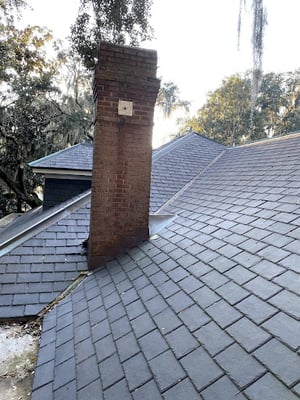 Within the past few years, there's been an increasing interest in synthetic roofing technologies. So, what exactly is synthetic roofing? I'm glad you asked. A synthetic roof, sometimes called a composite roof, is a roof that's compiled of several different types of materials that are compressed in the form of shingles or tiles.
Depending on the manufacturer, the synthetic shingles and tiles are made with polymers, rubbers, and other types of recycled products, making synthetic roofing an environmentally friendly alternative. That's just one of the positives associated with synthetic roofing, though. Synthetic roofing can last you up to 50 years, is incredibly durable, and is among the top dogs when it comes to UV and moisture protection.
Are There Other Types of Synthetic Roofs?
As I mentioned previously, synthetic roofing comes in various materials ranging from recycled polymers, rubbers, clay, plastics, asphalt, fiber cement, and even steel. Each of these materials will create a different design, look, and color, so the aesthetic choice of the material that best matches the style of your home will be up to you, of course. While each choice has its own pros and cons, they're all wonderful options when considering your next roofing project.
Once again, depending on the manufacturers, those who work with polymer or plastic can curate tiles to look authentic. So, that home with the dreamy slate roof we discussed earlier isn't far-fetched after all. Just as with polymer and plastics, recycled rubber can also be used to form the basis of rubber tiles. And no, recycled materials won't look cheap, either! You can rest assured that these materials are of high quality.
How Much Do Synthetic Slate Roofs Cost?
So, how much is all of this going to cost? Well, there are several different factors that will impact the final cost of your synthetic roofing system, but the silver lining you can count on is that it will cost substantially less than the authentic alternative. When it comes to synthetic slate roofing, the tiles are far more inexpensive than the real deal, and the installation is more affordable as well. Here in the southeast, synthetic roofing costs about $10-$12 per square foot, while the latter can cost you anywhere from $20-$50 per square foot.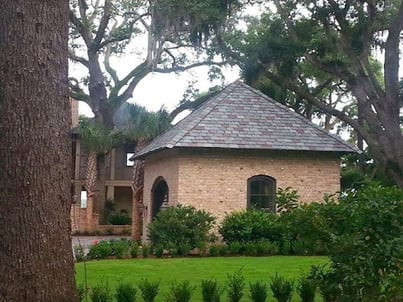 Price-wise, synthetic slate tends to fall somewhere in the middle when compared to typical metal, shingle, copper, and even real slate roofing materials. The price of the synthetic material as well as the associated labor and installation costs will vary from company to company, but your contractor will be sure to break it all down with you during your initial inspection.
Why Do Homeowners Invest In Synthetic Slate Roofs?
Alright, so what's the big idea? Why are homeowners investing in synthetic roofing? The most common reason synthetic roofing has skyrocketed on the popularity meter within the past decade or so is because of its environmental friendliness. Essentially, they're green as green can be. According to Mother Earth News, "The "greenest" of all roofing products are made from recycled waste materials, such as plastic, rubber, or wood fiber. Some products are made from clean post-consumer waste (waste from homes), and others from post-industrial waste (factory waste).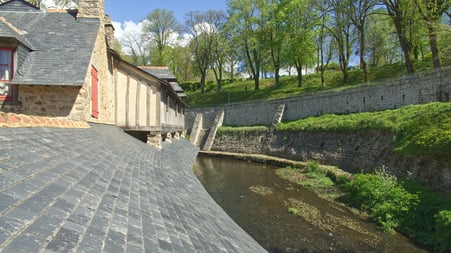 Recycled-content shingles are amazingly durable, and they look nice, too. You'd never know they were made from "waste" materials! Recycled-content roof shingles help divert waste from landfills and reduce our need to extract and process raw materials, which lowers energy consumption and reduces pollution. Some of these products are recyclable, too, and many come with amazing 50-year warranties. A few even carry fire ratings that could lower your insurance rates." The environmentally friendly traits are not the only alluring aspect of synthetic roofing, though. Many companies and manufacturers claim that these materials can cost 40-60% less than authentic materials. What's not to love?
Should I Invest In a Synthetic Slate Roof?
If you're interested in a specific style of roof that adds luxurious curb appeal to your home, but you're not interested in the high-end prices, investing in a synthetic roof may be the route for you. To recap, synthetic roofing is incredibly environmentally friendly due to the recycled materials used in production, durable against the forces of Mother Nature, and incredibly budget-friendly and cost-efficient. Your wallet will thank you, and your home will look stunning.
When it comes to choosing the best company to install your new and improved synthetic roof, always be sure to research a few roofing companies and have them conduct their inspections before choosing the one you wish to have complete your project. You can compare and contrast their performances by using "The Top 10 Most Critical Questions You Want to Ask Your Potential Roofing Contractor". This checklist includes several different prompts to ask your roofer to prepare you to hold the company accountable for its quality of work and services.
If you're ready to begin your synthetic roofing journey, RoofCrafters has your back. BBB accredited, as well as GAF certified, we're eager to serve homeowners in need. If you live in Georgia, Florida, or South Carolina, and are interested in a free roofing inspection, jump-start your home improvement project now, and hit the "schedule inspection" button down below.
My name is Cassie, and I'm the Content Manager here at RoofCrafters. I was born and raised in Chicago, Illinois, and made my way out to Florida post-college graduation. I'm incredibly passionate about writing and creating valuable content that helps others with the collaboration of my marketing team. When I'm not working, I enjoy shopping (a little too much), spending time at the beach, and reading!