Are the GAF Solar Shingles Right for My Home?
August , 2022 | 14 min. read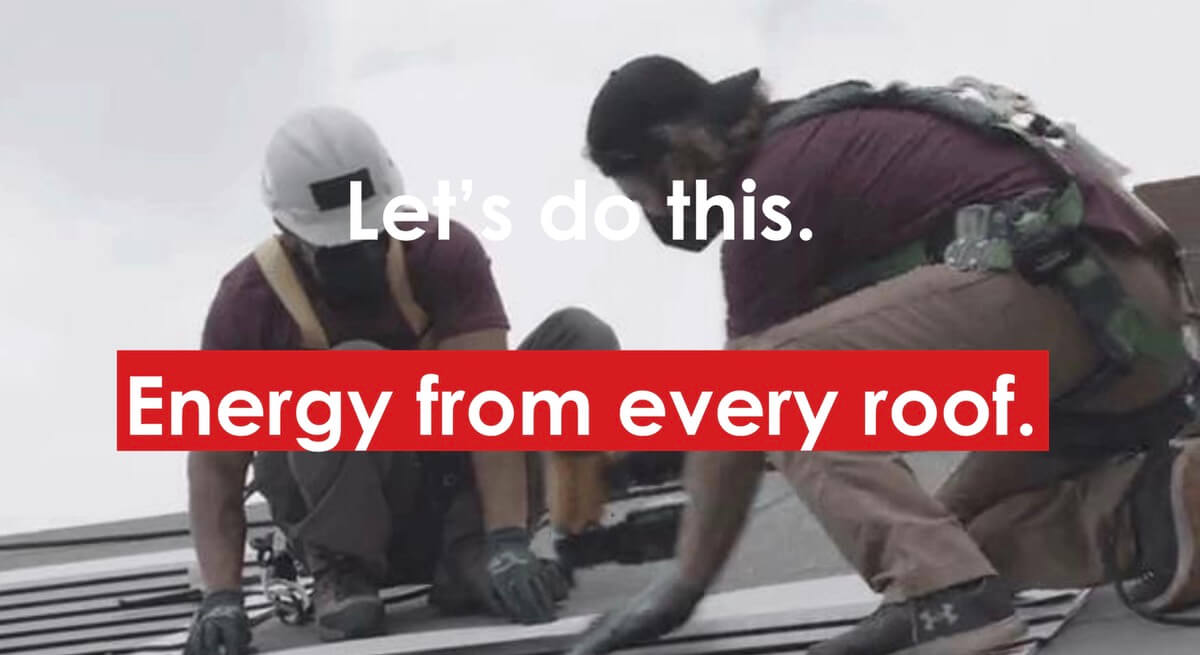 Is it getting close to the time for you to get a new roof?
Are you concerned about the rising cost of electricity? If so, producing your own power and decreasing your reliance on the utility company may be worth looking into.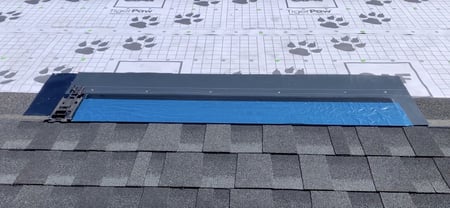 Investing in solar energy now could be a wise decision. IF, the numbers work....let's say it again together...IF the numbers work for you. That is unless you just want the new GAF Timberline Solar Energy Shingles and aren't concerned about the cost or the return on your investment.
Our family here at RoofCrafters has been replacing roofs for nearly 3 decades. We've been a GAF Master Elite Contractor for over 10 years. So, we're excited about GAF's new Timberline Solar Energy Shingle. (ES for short)
We're excited to be a part of bringing clean energy to you through an integrated solar roof system. But we also want to be fully transparent and honest with you upfront. Because we are a GAF Master Elite contractor that'll be installing the new solar roof shingles, we're going to be a little biased in this article. (That's not typically our style)
But we also promise that we will do our best job to provide you with all the important information so that you can judge for yourself. And hopefully, by the end of the article, you will be able to answer, "Are the GAF solar shingles right for my home?"
We'll cover:
Your solar goals
The energy efficiency of your house
Integrated solar shingle roof vs. traditional solar panels (pros & cons)
Solar incentives available
The GAF Timberline Solar Energy Shingle (colors, installation, & warranties)
The benefits of going with solar shingles
Let's dive right in!
What are your solar energy goals?
When deciding whether to go solar, it's important to start by thinking about what your goals are for solar. Why do you want to go solar? Understanding your reasoning will help you make the most of your investment. Everyone's situation will be a little different.
Here are a few questions to ask yourself:
Am I looking to maximize the return on my investment?
Can a solar system help me save money?
Do I want to reduce the upfront cost of my roof using a solar system?
Will this help me reduce my carbon footprint and positively impact my environment?
Get clear on your personal goals. Going over all the pros and cons before designing a solar system will help you get the best return on your solar investment. And as an added bonus, you'll make yourself a lot happier in the long run by avoiding the dreaded buyer's remorse.
Consider the energy efficiency of your house
Evaluating the energy efficiency of your home before investing in solar energy is important too. This may not be high on your "honey-do" list, but you may be surprised at what you can uncover in energy losses.
Here are the important factors to take into account when evaluating your home for wasted energy:
Check for air leaks
Inspect your insulation
Check your windows and doors
Check your HVAC system
Check your major appliances
Inspect all lighting
Why?
Well, say you have air leaks somewhere in your home. You will need to run your HVAC unit more in the summer to keep your home's temperature nice and cool. Winter comes and you find out your insulation is insufficient. You'll start to lose heat. And then you'll need to run your HVAC unit more to stay warm and cozy.
If your windows and doors are not energy efficient, they will allow both heat and cold air to come in and go out of your home, requiring what? Yeah, you guessed it; running your HVAC unit even more.
Now, let's say your HVAC unit is not energy efficient; it will require more power to run it. The same goes for your major appliances and lighting. All of this increases your energy consumption and electric bill. The higher your electric bill is, the more kWH (kWh = kilowatt-hour) you are using. You get the point.
If your home is not as energy efficient as possible, you'll end up needing a larger solar system to power your inefficient home. Therefore making your home as energy efficient as possible before going solar, you'll be able to reduce your solar energy investment.
Now if your house is energy efficient, you'll be ready to choose which system will best help you achieve your goals. Rack-mounted solar panels or GAF's integrated solar shingle roof.
Rack-mounted solar panels vs. GAF integrated solar shingles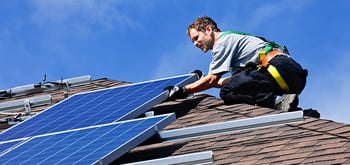 The average cost of an architectural shingle roof replacement is between $11,200 and $17,100. If your roof doesn't need to be replaced and you are wanting to go solar, a traditional rack-installed solar system may be the best option for you. Again this is considering you are looking to recoup your investment as quickly as possible.
If you are interested in a metal roof or tile roof, a traditional rack-installed system would be your best option. Rack-mounted panels have custom brackets designed for metal and tile. Installed properly they'd allow attachment without causing roof leaks.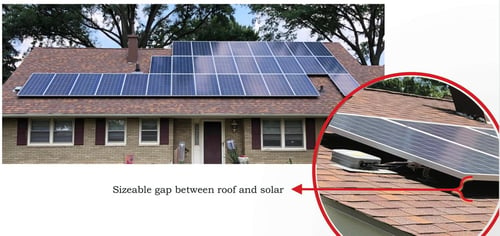 Would you agree that traditional rack-mounted panels installed on a roof are not aesthetically pleasing? Some of them remind of us a bad game of Tetris! They're mounted above the roof leaving gaps. Debris and wildlife infestation can also get trapped in these gaps. It can be an eyesore.
Also, with traditional solar panels, you will have 2 to 3 installers. The roofer, the solar installer, and the electrician. This means you will also have several different warranties. Separate material warranties for the roof, the solar system, and the electrical components. You'll also have separate labor or workmanship warranties for the 3 trades. This has already caused much confusion. When you have a leak, whose fault is it? See where we are going with this? An integrated solar shingle roof eliminates all this unwanted confusion.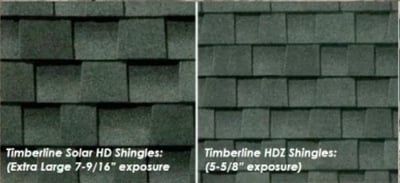 One of the biggest aspects of the integrated shingle roof is that you'll need to be in the market for a roof replacement. Again, assuming that your return on investment is important. The GAF Solar ES will not tie into an existing shingle roof system. The exposure on the shingles is approximately 2 inches larger than a standard architectural shingle. Thus making it impossible to add new solar shingles to an existing architectural shingle roof and make it waterproof.
Compared to the bulky rack-mounted panels. Because the solar shingle lays flat against the underlayment and decking. And they are low profile; the arrays are installed in square and rectangle columns making them uniform. They look a lot like nice glass skylights. To us, they're much more aesthetically pleasing. Which is going to add curb appeal.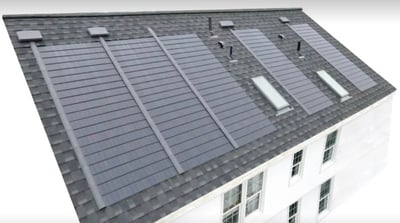 If you don't need a new roof, traditional rack-mounted solar panels will be your best option to get the fastest return on the investment. And if you are close to needing a roof replacement and you are concerned about the look of the solar on your home. Well the Timberline Solar ES may be the best choice for you.
Let's dive deeper into investing in GAF's solar roof by discussing some of the incentives.
What financial Incentives are available for Solar Shingles?
Financial incentives take many forms. The incentives available are often what help reduce the initial investment cost. Making it much easier to get a return on the investment in a shorter period of time.
Here is a list of the most popular solar incentives:
Federal Solar Tax Credit
State Tax Credits
Net Metering
Local Solar Incentives
Sales Tax Exempt
Property Tax Exempt
Production Incentives
Cash Incentives
What is The Federal Solar Tax Credit?
The Investment Tax Credit (ITC) is also known as the federal solar tax credit. The credit was put into place to help incentivize homeowners to make the switch to producing their own clean energy.
Here's how it breaks down:
Currently allows you to deduct 26% of the total cost of installing a solar energy system from your tax liability.
You must own the system, leases are excluded.
There is no cap on the amount.
You must have a tax liability to benefit.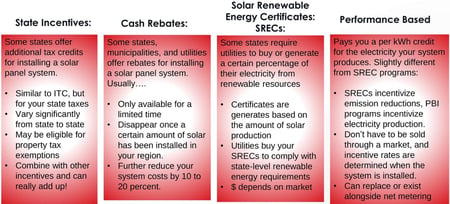 Since our states also operate independently from our federal government some states offer tax credits too. You can easily check to see if your state has incentives.
What is Net Metering?
In short and not to bore you. You sell the utility company any extra energy that your solar system produces. This could potentially be a great way to shorten the time and even to make a greater return on your investment.
Here is how it works:
It's a billing arrangement between you and the electric company


It measures the energy your home pulls from your utility's electrical grid. And the excess energy your solar panels produce and export back to the grid


Keeping track of energy going in and out of your home using a net meter


When there is a surplus your energy meter will run backward and you'll get either a monetary or a kWh credit


You can use this kWh credit anytime you need more energy than the system is producing, at night or on extremely cloudy days.
You can check with your utility company to see if they offer net metering. Or the solar roofing contractor you decide to go with will provide you with this information.
Now let's discuss the fun stuff, solar roof colors!
GAF Timberline Solar Energy Shingle (colors, installation, & affordability)
It was important for GAF to get their certified contractors on board with installing the new integrated solar shingles. They needed to make 3 things happen while developing the new shingles. Their contractors agreed to the solar shingles needing to meet these requirements: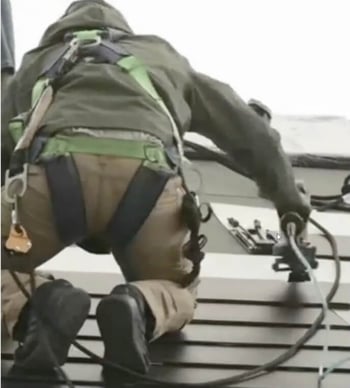 Be affordable to consumers with competitive pricing
Be easy to install and service
Be better looking than the other products on the market
Here's where we stand on these 3 items.
Are GAF solar shingles affordable?
Solar Energy Industries Association or SEIA reports the national average price of solar is $2.94 per watt for solar panels. For a 5kw system that would equate to $11,000.
GAF's solar shingle is coming in at around 2.50 per watt. This can vary depending on all the different factors that go into a roof replacement. As a GAF Master Elite Contractor, that's a definite yes to affordable and competitive!
Ease of installation
The average time from start to completion won't change much when installing solar shingles. An average size home can typically be done in 1 to 3 days depending on the complexity of the roof.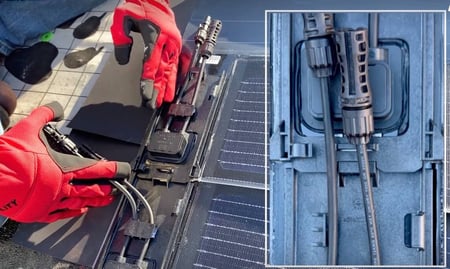 GAF has done a great job making the connections and installation of the solar shingles easy. Because the new solar shingles are installed by nailing them to the decking like shingles. Since adding installing a 10 x 10 array of solar shingles will only add around 30 minutes. This helps keep the labor cost down too. The roof installers don't do the electrical work. The electrical work gets done after the roof is completed. Another yes!
Solar shingle colors
GAF has launched the Timberline Solar ES using 4 of their most popular Timberline shingle colors.
Charcoal
Birchwood
Pewter Gray
Weathered Wood

We did mention at the beginning as a GAF Master Elite Contractor that we we were going to be a little biased! And with that, we'll leave the last one mentioned above up to you. Is it a better-looking product than others on the market?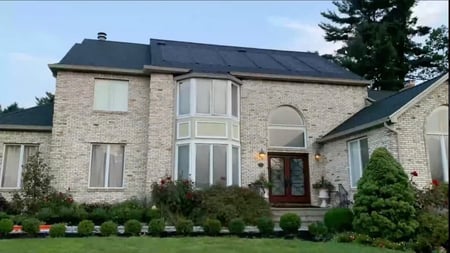 Photo credit; GAF Energy


What are the benefits and costs to go with the Timberline Solar ES roof?
Here's a list of what we believe are the top 6 benefits of going with the new GAF Timberline Solar Energy Shingle.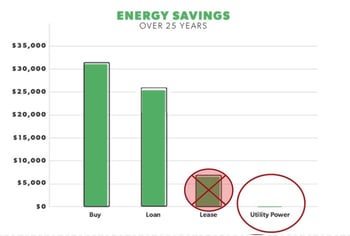 Substantially reduce your monthly energy bill
Offset the cost of your roof with the electrical savings
Foster energy independence
Increase the value of your home by as much as 4%
Reduce greenhouse emissions and your carbon footprint through clean energy production
25-year warranty from one source

.
Well, by now you know the most affordable time to go with the new solar shingle is when you need a new roof. You can easily turn two big home improvement projects into one. And offset the cost of the roof with your utility savings and the incentives. You'll be protected with a 25-year warranty for your roof and solar.

What's it going to cost to produce your own power and turn your roof into an energy-producing asset? We can't give you an exact price for a roof without knowing all the many factors that go into calculating the cost. Factors such as the square footage of the roof, average yearly power consumption, and square feet of roof on sun-facing slopes, just to name a few.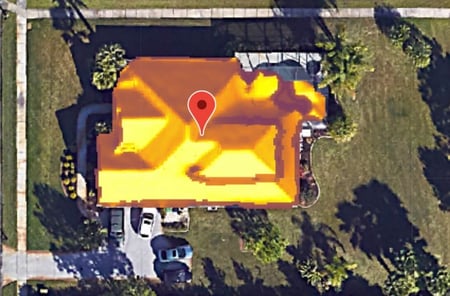 But we can tell you that an architectural shingle roof that would cost you around $15,000 would cost around $30,000 adding the new solar shingles before any incentives. And applying only the 26% Federal tax credit would mean that the GAF Timberline solar energy shingles roof would run you around $23,000. Not bad to produce your own energy, huh?
What's the next step for me?
After reading this article, you have the important information needed to determine if the new GAF Timberline Solar Energy Shingle is even an option for you. If it is you are ready to find a local contractor to begin the process.
Our family at RoofCrafters Roofing has been providing homeowners in the southeast region with high-quality roofs for 29 years. We provide our clients with manufacturer-backed lifetime warranties so their investments stay protected. As we mentioned, we're excited about the new launch of an affordable solar shingle roof. We hope that you see value in turning your roof into a clean energy-producing asset.
GAF is launching the new Timberline Solar ES state by state in phases. If you are considering the new solar roof and want to be first on the list as it becomes available in your state. You can submit your information below and we will contact you to discuss your solar goals as soon as your market is open.
At RoofCrafters, our mission is to provide job opportunities for others to thrive and grow while making a meaningful impact within our communities.