7 Factors to Consider Before Installing Solar Panels on Your Roof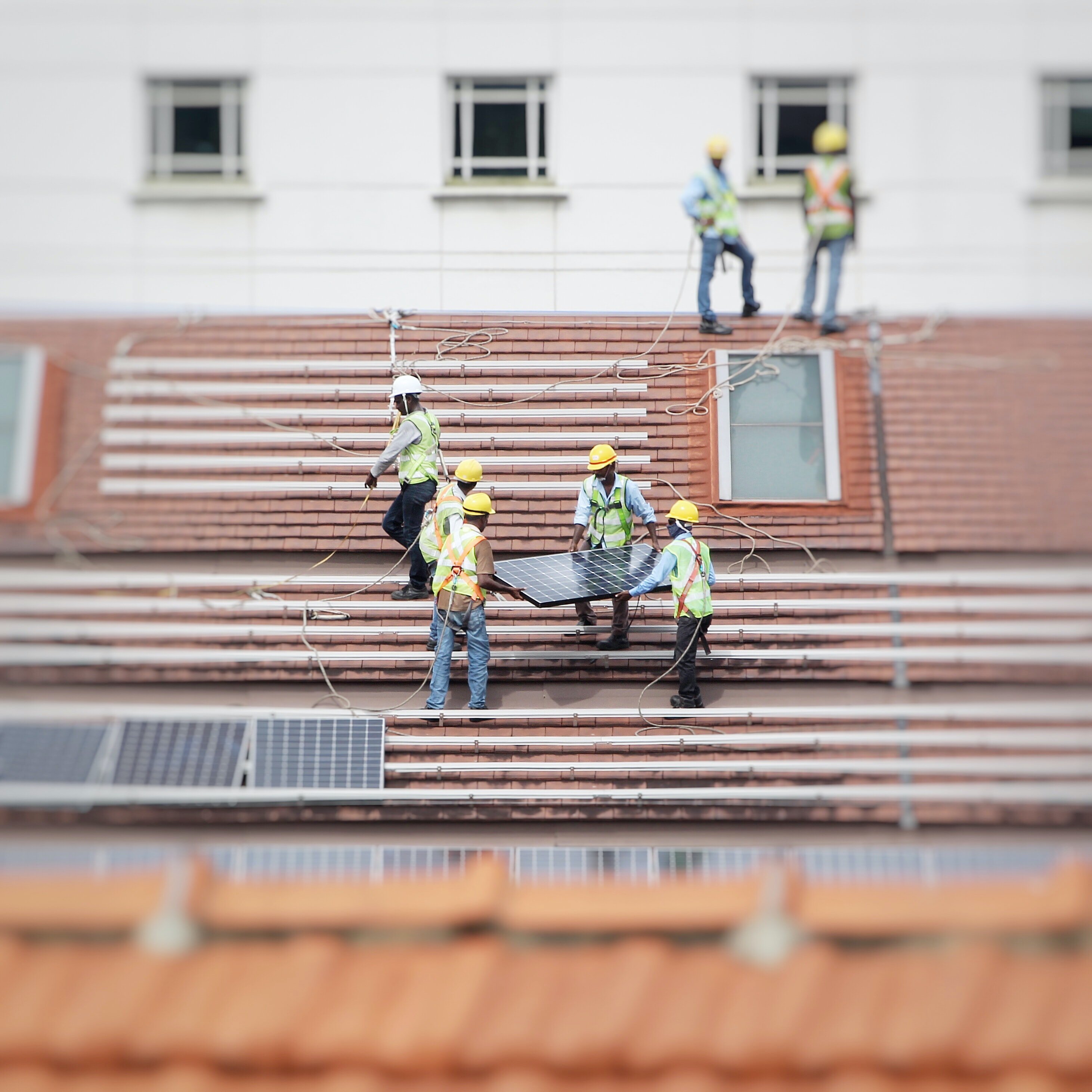 It's 2022, and saving the turtles and making "green" decisions for the sake of our environment is all the rage. We're okay with drinking through paper straws that get soggy after a while if it means our ocean friends can thrive, but what are we doing to combat the bigger issues such as greenhouse gas emissions?
It's all about the little things. The positive things we individually do, such as cutting our soda pack plastic rings before we throw them away or making an effort to recycle more impacts the future of planet Earth greatly. So, does that mean we should all go and invest in solar panels for our roofs to dip our toes into the pool of renewable energy?
Here at RoofCrafters, we believe it is of the utmost importance to provide our clients with the advantages and disadvantages of all things when it comes to roofing on your home or business. I have personally learned that buyer's remorse is not a feeling I take kindly to, so I will give you my 28 years of experience in the roofing industry combined with my 5 years of experience working with solar companies installing solar systems on roofs.
That being said, in this article I will cover 7 different factors that you will want to consider before moving forward with having solar panels or solar shingles installed on your roof. By the end of this article, you will be well informed about the most important aspects of solar paneling and understand if having a solar system on your roof is right for you.
Let's dive right in!
7 Factors to Consider Before Installing Solar Panels on Your Roof
What is the existing condition of your roof?
How energy efficient is your home?
Do you have enough roof area to power your home?
What will the return on your investment be?
Should you use a solar contractor and a roofing contractor?
What's the difference between solar panels and solar shingles?
How do you maintain a solar panel roof?
1. What is the existing condition of your roof?
First things first, you do not want to have a new solar system installed on an aged roof that is nearing the end of its lifespan. If your roof needs to be replaced in the next 5-10 years, the solar system will likely need to be removed.
Depending on the type of solar system you want to have installed, replacing a roof that has solar panels mounted on the roof requires electrical work, removing all of the panels, and reinstalling the panels. This would add to the cost of your overall investment in your solar system and increase the time it takes to recoup your investment.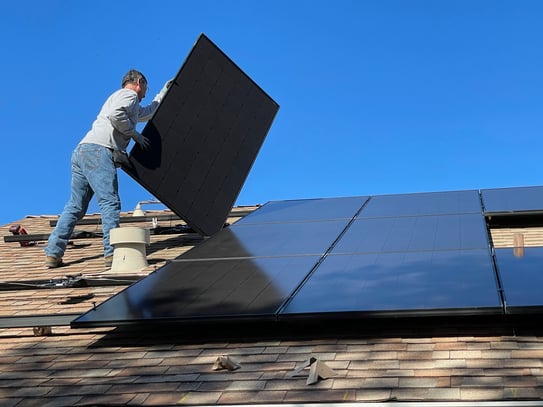 Having the solar installers working on an older roof, mounting the brackets and other hardware that is required can decrease the lifespan and integrity of an aging roof, causing it to fail sooner. The worst-case scenario, as we have seen much of this lately, would be a potentially compromised and leaking roof.
If you are not sure about the condition of your roof, have your local roofing contractor come out and provide a thorough roof inspection and a professional opinion. You can also check out how often you should replace your roof. A video is included in this article, too.
By doing your due diligence here, you will ultimately save big money down the road. Once you know the condition of your roof, you are ready to consider the energy efficiency of your home.
2. How Energy Efficient is Your Home?
Evaluating the energy efficiency of your home or business before investing in solar energy is important. This may not be high on your "honey-do" list, but you may be surprised at what you can uncover in energy losses.
Here are the important factors to take into account when evaluating your home for wasted energy:
Check for air leaks
Inspect your insulation
Check your windows and doors
Evaluate your HVAC system
Check your major appliances
Inspect all lighting
Why? Well, say you have air leaks somewhere in your home. You will need to run your HVAC unit more to keep your home's temperature nice and cozy. Winter comes and you find out your insulation is insufficient. You start to lose heat and now, you will need to run your HVAC unit more.
If your windows and doors are not energy efficient, they will allow both heat and cold air to come in and go out of your home, requiring what? Yeah, you guessed it: running the HVAC unit even more.
Now, say your HVAC unit is not energy efficient; this will require more power to run it. The same goes for your major appliances and lighting, which increases your electric bill. The higher your electric bill is, the more kilowatts you are using. You get the point.
If your home is not as energy efficient as possible, you will end up needing a larger solar system to power your efficient home. By making your home energy efficient before going solar, you can reduce your solar panel cost per square foot.
Now, your home is on its way to being energy efficient and you know if your roof will need to be replaced at the time of installing your solar system, or if it's new enough to have the system installed without replacement. Now, let's discuss the amount of area needed on your roof.
3. Do You Have Enough Roof Area to Power Your Home?
Even solar systems that run great typically only put out around 85% of the capacity that they are capable of producing. Direct sunlight, clouds, and weather conditions all have a major impact on a solar system's output.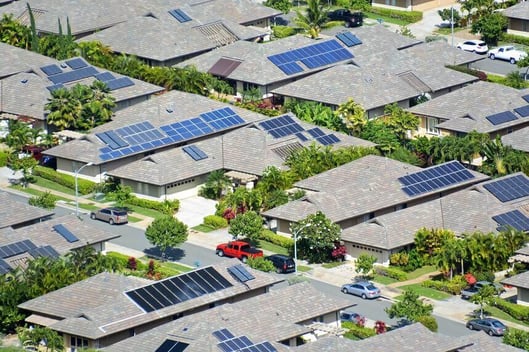 I recommend using Google Project Sunroof. They use satellite imagery and the weather conditions of the region you are located in to make predictions on the area your roof can provide, as well as which areas will be most effective. If your home does not have enough south-facing area, east and west are also options if you don't have any obstructions like trees or a chimney that would block the sunlight.
Doing a little legwork will go a long way. If you find that you are in an area that doesn't get enough direct sunlight, or you don't have enough roof area facing the best direction, installing solar on your roof would not be a good investment. Let's take a look at the return on investment now.
4. What Will the Return on Your Investment Be?
When deciding whether or not to go solar, it's important to start by thinking about what your goals are for solar. Why do you want to go solar? Understanding your reasoning will help you make the most of your purchase. Here are a few questions to ask yourself:
Am I looking to maximize the return on my investment?
Can solar panels help me save money?
Do I want to reduce the upfront cost of my solar system?
Will this help me reduce my carbon footprint and positively impact my environment?
Getting clear on your personal goals and reviewing all of the solar power pros and cons before designing a solar system will help you get the absolute best return on your solar power investment. As an added bonus, you will make yourself happy by avoiding the dreaded buyer's remorse. Now, let's chat about who is doing the work.
5. Should You Use a Solar Contractor and a Roofing Contractor?
Being in the roofing industry now for 28 years and assisting solar installers for the past 5 years, I will say from experience, proceed with caution. We have been repairing roof leaks from solar installation more and more now that solar is becoming more affordable.
Some solar installers have roofing backgrounds and they do a great job with the mounting and flashing of the solar brackets for rooftop installations, but this as you may already know, is not always the case. Is your roof under warranty? If so, contact the roofing contractor and manufacturer before having a solar contractor install a system. You wouldn't want to risk voiding your warranty.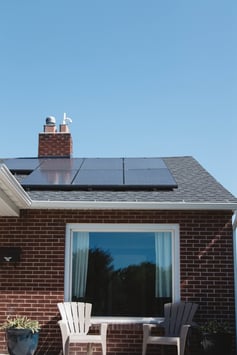 If your roof is not under warranty, first, shame on you. Kidding! If it has plenty of useful life remaining, I would recommend asking the solar contractor:
"Who will do the roofing work?"
"How long will the company warranty the work?"
"What is their warranty process, should you experience a leak?"
Knowing these things up front will save you headaches later and just may give you some peace of mind.
I like seeing the solar contractors work on their portion, and roofing contractors work on their roofing portion. My perfect world! This way you get the most experienced installers performing the solar work they were trained to do and your favorite local roofer doing theirs. Another Win-Win! Now, let's get into the nitty-gritty of solar. Panels? Or shingles?
6. What's the Difference Between Solar Panels and Solar Shingles?
Traditionally, solar panels with rooftop mounting brackets and racks are the only option. If you are not as concerned with the aesthetics and if your existing roof has plenty of useful life left on it, I would say solar panels maybe your best option. Keep in mind though that you may need to have 2 contractors perform the work to get the best installation.
With the advancement of technology, solar shingles have become an affordable option as well. Previously, the cost of solar shingles put them out of reach. Yes, they look great compared to the bulky solar panels. However, It was nearly impossible to recoup your investment.
Now with all of the technological advancements, take a look at the solar shingles; they have to be in the conversation. I may be a little biased because I love the curb appeal they provided compared to the solar panels.
Here's the thing, if you need a new roof and or you are concerned with the curb appeal of your home, solar shingles may be a good option for you. If you don't need a new roof then maybe it makes more sense to do the solar panels.
Whether you are thinking about replacing your roof with solar panels or solar shingles, this one comes down to looking at your goals. By evaluating your solar goals you can determine which solar system will help achieve your overall goals for your solar project. Now that you know about your solar options, let's discuss maintenance.
7. How Do You Maintain a Solar Panel Roof?
General maintenance is something that we see that is typically overlooked. To get peak performance from your solar system, you will need to factor in doing maintenance at least 2 times per year.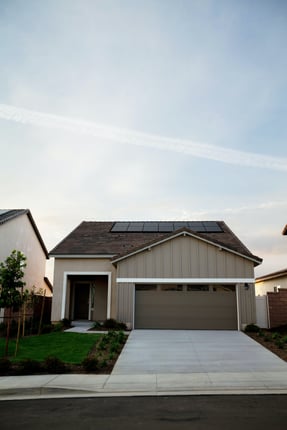 Natural soiling is expected. Pollen and other debris won't stop your solar system from producing power, but it can reduce the amount of output. Having the glass cleaned will prevent this from occurring.
I recommend having a professional perform the maintenance so that it is done safely. You don't want to damage the glass by cleaning them when they are too hot; It's possible the panels could crack. Plan to have a professional come out to your home 2 times a year and perform routine maintenance.
Should I Invest in a Solar System For My Roof?
Determining whether or not to invest in a solar system for your roof is certainly a daunting task, but it's important to remember that the system you choose has the potential to be one of your greatest long-term investments. Solar power is a great financial choice for all homeowners in many different regions, so if you're considering delving into solar energy, take the plunge!
Now that you have the 7 most important factors to consider before installing a solar panel roof, you can ease your worries and put your best foot forward when choosing how you'd like to proceed. If you're considering beginning your renewable energy expedition, drop RoofCrafters a line. One of our friendly representatives will be happy to help you learn more about our solar services, and schedule an inspection at your earliest convenience.

In the meantime, be sure to browse through the extensive resources we have available to you located in our learning center. We recommend reading "Are You All Charged Up About Solar Panels?" to learn about all the necessary information regarding solar systems.