Decoding the Most Affordable Roofing Option- Asphalt Shingles
May , 2023 | 7 min. read
By Macie LaCau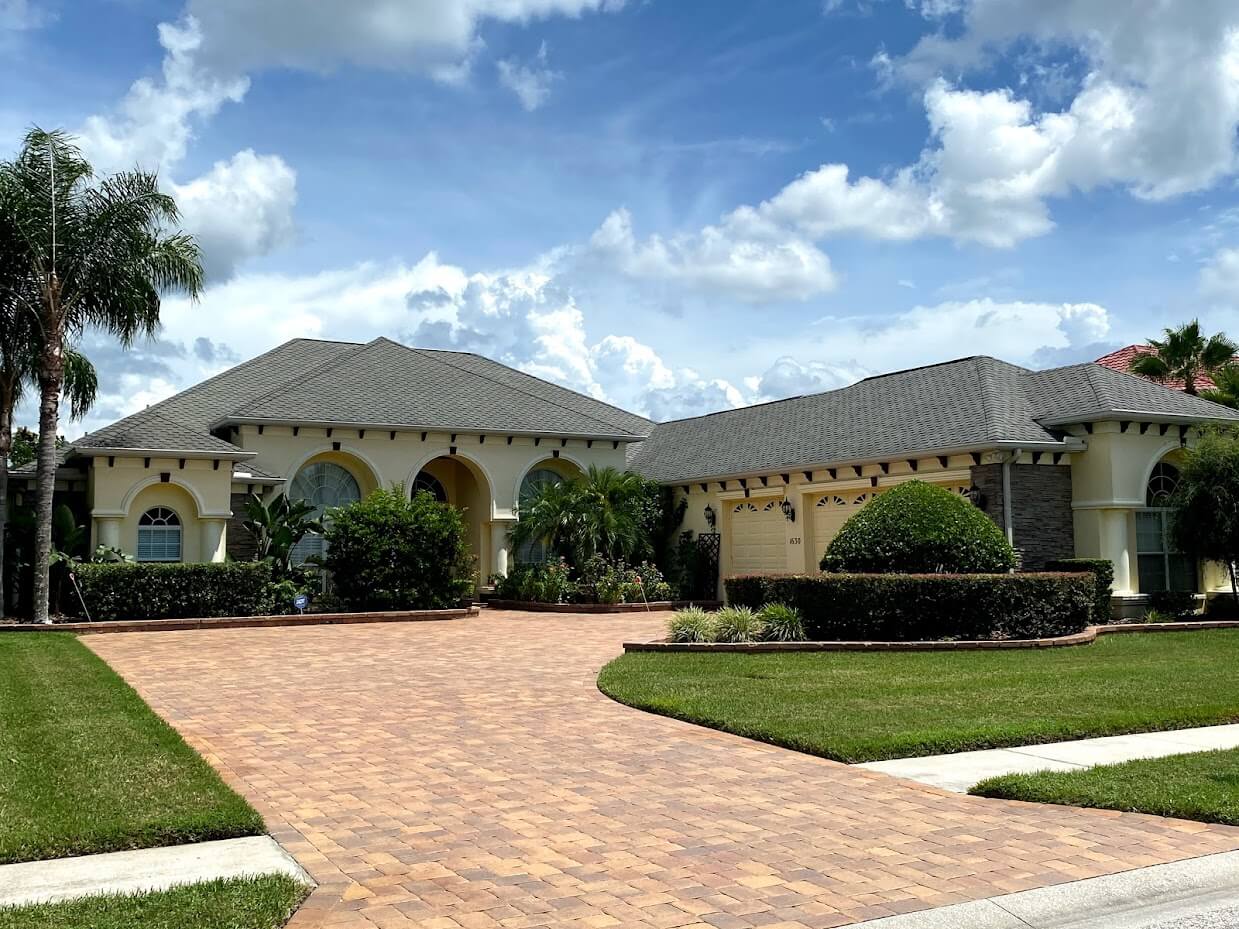 Who doesn't want a comfortable and happy home to rest in at the end of a long week? While that's a pleasure so many of us are lucky to have, the truth is, every now and then certain aspects of our home fall short, including roofing systems. When that happens, several thoughts and questions run through our heads- one of them (especially right now) being, "How much is this going to cost me?"
We won't beat around the bush- times are tough! Many homeowners are struggling to find budget-friendly options for their homes right now, and we want you to know that you aren't alone. If you need a new roof but don't want to break the bank, you've come to the right place.
RoofCrafters has repaired and replaced budget-friendly roofing systems for nearly thirty years- and we understand the importance of finding a budget-friendly option that doesn't compromise on quality. That's why we're thrilled to present asphalt shingles to you! In a few short moments, you'll learn about three-tab, architectural, upgraded architectural, and designer shingles. Get ready to embark on a journey toward an affordable and reliable roofing solution made for any homeowner. Are you ready?!
Exploring Asphalt Shingles
Asphalt shingles serve as an affordable and decently waterproof roofing solution. Their widespread popularity in North America is attributed to their cost-effectiveness, long lifespan, and resilience! With a diverse range of styles and colors available, asphalt shingles can seamlessly enhance the appearance of any home. Comprising a base mat, a waterproof asphalt layer, and ceramic granules, these shingles offer durability and come in various shades to perfectly match your home's aesthetic vision.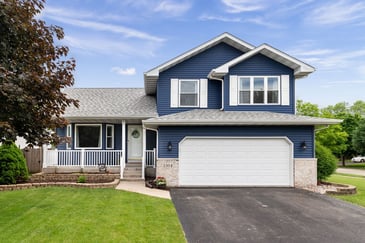 When it comes to asphalt shingles, you have a selection of four types to consider. These options include:
Three-tab Shingles
Architectural Shingles
Upgraded Architectural Shingles
Designer Shingles
Each type offers unique features and benefits, catering to different preferences and objectives for your roof's appearance and functionality. Whether you prioritize aesthetics or specific performance requirements, there's an asphalt shingle suited to meet your unique needs.
Navigating through your choices can feel daunting, but fear not; we're here to simplify the process. Let's begin by exploring the first option: three-tab shingles.
Three-Tab Shingles
Three-tab shingles, named for their cut and installation method, are the simplest and most economical form of shingles. Made of a single layer of asphalt, these shingles are then cut into individual strips. Being the lightest option, they come at a more budget-friendly price compared to architectural and designer shingles. For a 2,000-square-foot home, the estimated cost of three-tab shingles ranges from $7,300 to $10,600.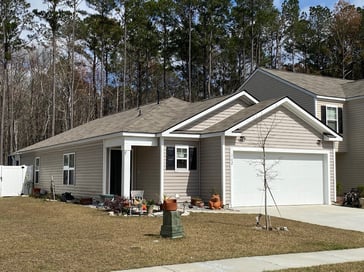 Three-tab shingles offer excellent cost-efficiency, making them a favorable option for homeowners. However, it's important to note a few drawbacks associated with this type of shingle. Due to their lightweight nature, there is a higher risk of them being blown off during strong winds, which can pose both safety concerns and financial implications.
Unfortunately, three-tab shingles have limitations when it comes to aesthetics. If you desire a more sophisticated look, architectural or designer shingles would be a more suitable option. However, in terms of short-term affordability, three-tab shingles can be a financially wise choice for rental properties or budget homes.
Click here to see the GAF color chart.
Architectural Shingles
Architectural shingles, or dimensional shingles, are the prevailing choice for asphalt shingle roofs. They undergo a manufacturing process where multiple layers are added to the base mats, resulting in a visually appealing, multi-dimensional appearance on your roof. The additional layers enhance the aesthetics and contribute to the durability of architectural shingles, making them a resilient roofing option.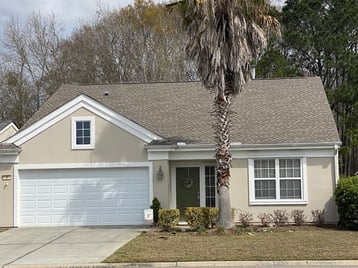 There are two different grades of architectural shingles you can choose from, and these are known as regular and upgraded. On a 2,000-square-foot home, the standard grade costs in the ballpark range of $11,200-$17,100 and will be a little less durable than the upgraded shingles. In fact, these shingles do not meet the wind-withstanding requirements in many states—just something to keep in mind.
The upgraded architectural shingles have gained popularity for their enhanced visual appeal. They offer a striking appearance that can give your home that desired "pop," and they are also heavier compared to regular-grade shingles. The estimated cost for upgraded shingles on a 2,000-square-foot home ranges from $13,100 to $19,000.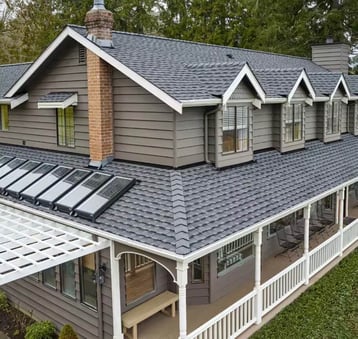 Whether you opt for regular or upgraded architectural shingles largely depends on the weather conditions and region you live in. Both options provide excellent choices for enhancing the aesthetics and functionality of any home. You can explore the various colors available in CertainTeed architectural shingles here.
Upgraded Architectural Shingles
When placed next to its counterpart, the "regular" architectural shingle, the difference is uncanny. The upgraded architectural shingle surpasses it in weight and thickness, and its substantial build adds more depth and definition to your roof, enhancing its overall appeal and curb appeal. If you want to move beyond a basic or conventional shingle roof, this option might be the perfect fit. It offers a distinctive look that sets it apart from the most common shingle roofs found across the United States.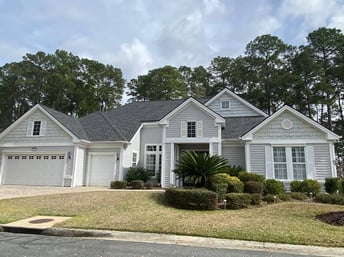 The initial cost for architectural shingles is generally 10 to 15% higher than regular ones. They require a slightly larger upfront investment with an average price range of $13,100 to $19,000.
These shingles stand out due to their noticeable thickness, delivering an added visual impact when viewed from the street. Moreover, they offer a longer lifespan, typically lasting between 25 to 30 years.
Designer Shingles
Last (but not least) is designer shingle roofs, also known as luxury shingles. These shingles represent the epitome of quality among asphalt shingles. Not only do they offer exceptional functionality, but they also elevate the aesthetic appeal of your home with their stunning appearance.
Designer shingles combine style and functionality, offering a dimensional look and a wide range of color options. These shingles are perfect for homeowners who prioritize the curb appeal of their property. However, it's important to note that designer shingles are the priciest among asphalt shingles, with an estimated cost of $18,500-$22,000 for a 2,000-square-foot home.
Not only are designer shingles aesthetically pleasing, but they also boast exceptional durability. With twice the weight of three-tab shingles, they provide enhanced protection against impacts and tears. This makes them an excellent choice for homes located in regions susceptible to hurricanes, tornadoes, and extreme weather conditions. Explore the various styles and colors of designer shingles here to find the perfect fit for your home.
Need A Budget-friendly Roof Option?
Asphalt shingles offer an excellent combination of quality, durability, and affordability, making them a popular choice for homeowners on a budget. With a wide range of colors, styles, and designs available, asphalt shingles can complement any home style, enhancing your home's curb appeal without breaking the bank! Whether you're looking to replace your existing roof or embark on a new construction project, asphalt shingles provide an affordable roofing solution without compromising on performance or aesthetics.
So here we are! You've successfully completed your journey, and we're delighted to have been your trusted guide. If you have any questions or concerns about your roof or any potential projects you're pondering, RoofCrafters is here to assist you. Before reaching out to a roofing professional, though, we invite you to explore our comprehensive roofer checklist. It'll give you the knowledge to identify reliable and trustworthy roofers, which is essential to finding excellent service! And when you're ready, visit our contact page to connect with one of our friendly representatives. We prioritize your satisfaction and peace of mind and can't wait to serve you!
I'm a native Georgian who spends my days nurturing my passions and embracing the quiet life. With a penchant for taking the road less traveled, I love discovering new ideas, rooting for the underdog, and taking the long way home. I enjoy spending time with family and friends, writing, and homesteading.