All About Slate Roofing
April , 2023 | 7 min. read
By Kevin Mills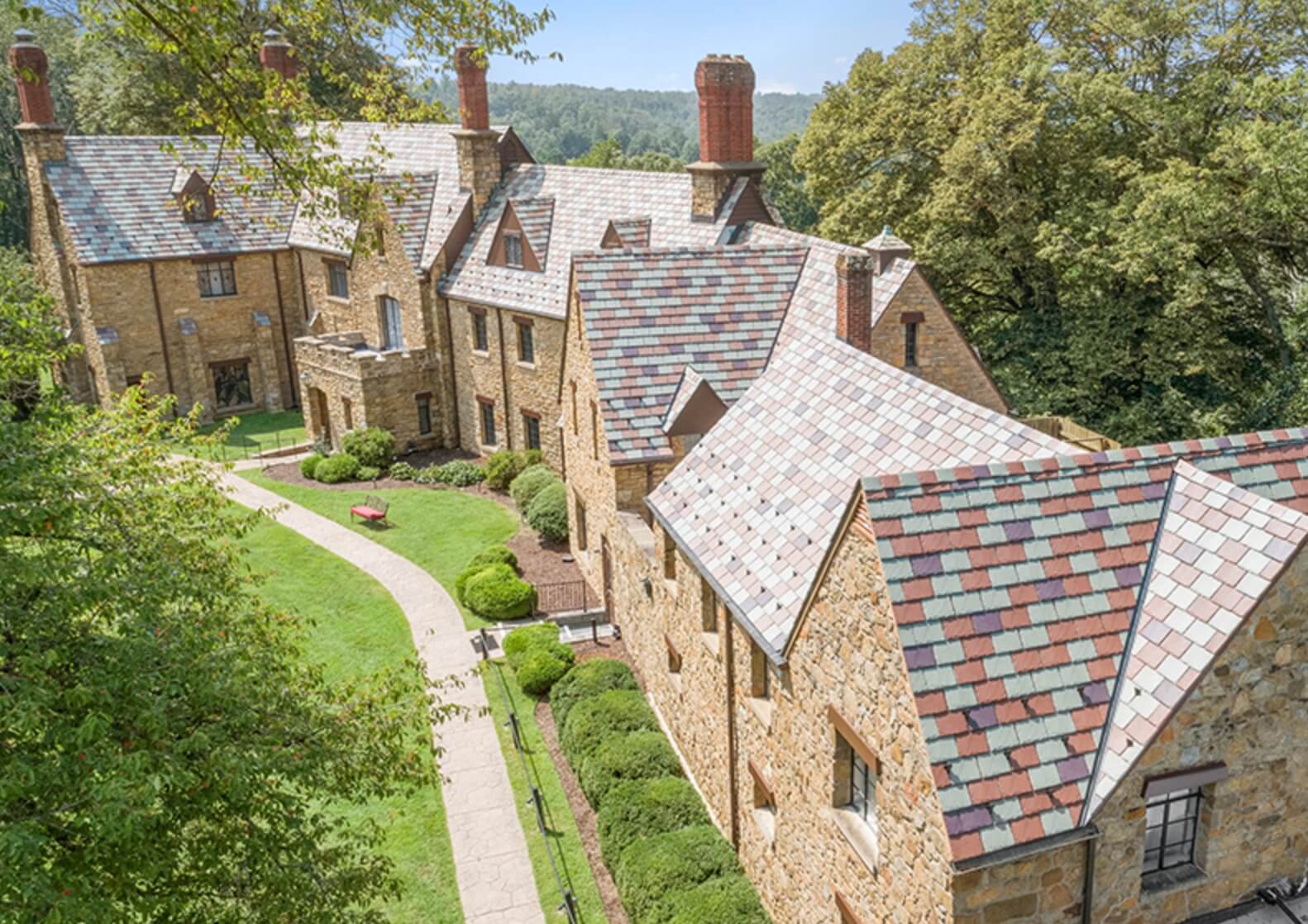 Luxury roofing is an underrated element of many aesthetically-pleasing homes. When walking through a neighborhood or street lined with homes, a spectacular roof will instantly catch your eye. You won't get those types of looks with a basic three-tab shingle roof; there are options made to be striking and pleasing to gaze at.
Slate roofs are a prize among roofing choices for many reasons. This roof type is admired in the Western world for its stunning natural beauty, longevity, and durability. Being able to hold its luster for decades, this is a choice for the homeowner that enjoys both beauty and brains. Though slate roofing holds numerous benefits, there are a few drawbacks, though. We're sure you know that the finest roof options come with higher prices, but we'll get into that in a sec. We're glad you're here because there's a lot to know about wonderful slate tiles.
At RoofCrafters, we've installed slate roof tiles for nearly thirty years, which is a long time to learn everything there is to know about them. We've seen and done it all, from removing them to repairing and replacing them.
This article discusses all the details you should have stored in your memory when it comes to slate roofing. By the time you're finished reading, we hope you'll have more of an idea of whether this roof type could be for you or not. We're stoked to get started! Are you ready?
What is Slate Roofing?
Slate roofing is one of the most stunning and long-lasting roof materials on the market. It's actually considered "premium" in the roofing world and is made out of natural slate tiles and other slate materials. Slate is so visually appealing that asphalt shingles are made to look like them and give more of a polished, high-quality look.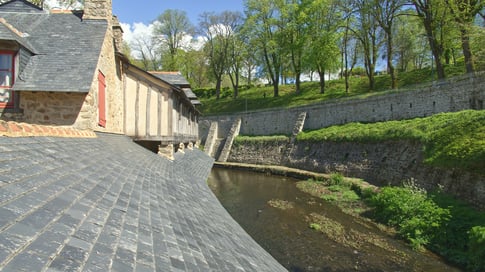 Not much can stand up to this roof type, however, and where it's typically made even sounds fancy. The slate is usually mined in Italy and then shaped into square tiles, then laid one at a time, as opposed to many other roof types that come in larger strips. The craftsmanship that goes into slate tiling is truly something to admire!
Slate Roofing: Is it Heavy?
There are a few things to jot down when considering slate roofing. First things first- you must understand that the slate is incredibly hefty. This means the type of home you have means everything. Your house has to be built or framed to hold the weight of slate, and if it's not, this isn't an option that's suitable for you. The last thing you want is your home caving in on you or quite literally being crushed. Now, if your home cannot withstand slate as it is right now, there is another option.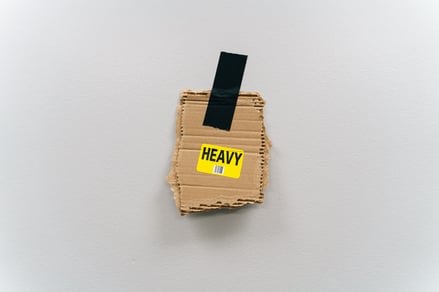 Retrofitting
A structural engineer typically approves this process, which is a big deal. Before your slate roof can be installed, retrofitting can help build your home to the strength it needs to have to carry those slate tiles. Of course, this also costs extra. Talk about retrofitting with your professional roofer.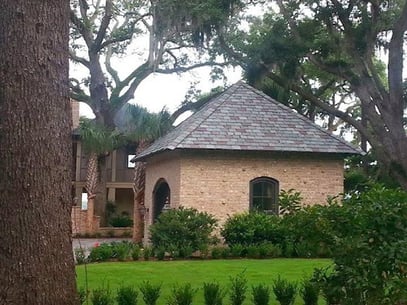 Slate has numerous benefits and few drawbacks, and if you have the money for it, it's an option you will most likely not regret choosing.
The Pros of Slate Roofing
There have to be quite a few pros to one of the most expensive roof types on the market, right? They aren't considered a luxury for no reason.
A Lifetime Commitment
If you decide on slate roofing, it will likely last you for decades to come. In fact, you may never have to replace your roof again. How's that for getting bang for your buck?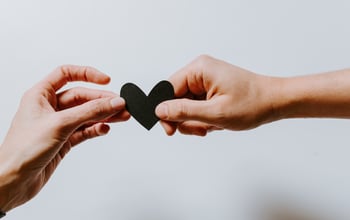 Durable? Oh Yeah!
These hefty tiles are made to last, putting them at the top of the list in terms of longevity. If you ever want to make your neighbors jealous, this is the way to do it. Go big or go home, right?
Did We Mention They're Gorgeous?
There's just something about the art of slate tiles that makes them unique. Heads turn when they see slate tiles shining in the sunlight. If you're a fan of the finer things, these will most likely appease you.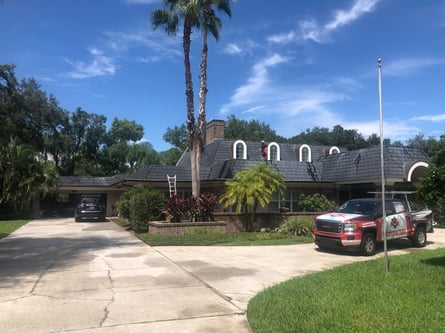 The Cons of Slate Roofing
Drawbacks come with anything, even the nicest of goods. While slate tiles don't have a ton, a few are worth noting. From cost to the absence of warranties, make sure you consider these before picking a new slate roof.
A Pretty Penny
You've probably gathered by now that slate roofing is pricey. In fact, it usually costs around four times more than asphalt shingles. If you need an affordable roof, this one may be for someone else. But it'll still be around if you ever change your mind!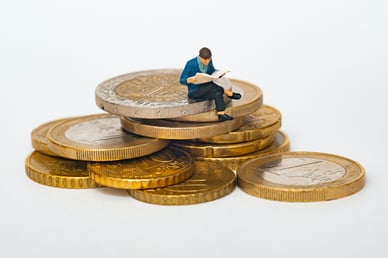 Skilled Roofer: A Must
While this isn't necessarily a drawback, ensuring your roofer knows how to install a slate roof properly is essential. Not every professional roofer has the experience needed to take on a project like this, so you have to do your research.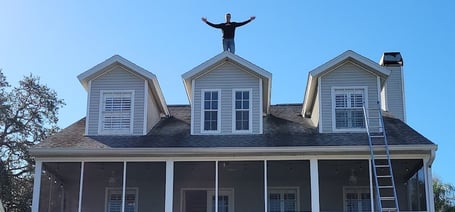 Material Warranty? Never Heard of Her
Because these tiles are made naturally, don't expect there to be a manufacturer's warranty on the materials. You will, however, still have your contractor's workmanship warranty to work with. This is one of the biggest reasons why hiring a highly skilled roofing professional is crucial, and you need one you can trust.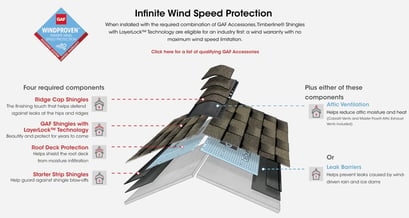 Am I Ready for Slate Roof Tiles?
You might be! When picking out a new roof, the final decisions you have to face are all part of the process. Though it may seem daunting and even a little stressful, the gorgeous final result makes it all worth the time and effort. Remember always to make sure you choose a roofing contractor that has your best interest at heart! Check out our complete roofer checklist to ensure you know exactly what to look for in a contractor. It'll help pave the way to finding the perfect roofing professional for you!
If you're ready to begin the process of slate roofing installation, RoofCrafters is thrilled to assist you! We want you to know that a studious and fresh new roof is only a dial away and we'll guide you every step pf the way. To get in contact with one of our excellent representatives, take a leap over to our contact page.
My name is Kevin Mills, and I am the lead estimator for RoofCrafters' Tampa division. I'm originally from Michigan, and I enjoy hunting, fishing, and spending any free time outdoors. What I'm most passionate about, though, is helping business owners and homeowners alike achieve their roofing goals, all while providing a seamless customer journey.