What You Need to Know About Skylights
August , 2022 | 6 min. read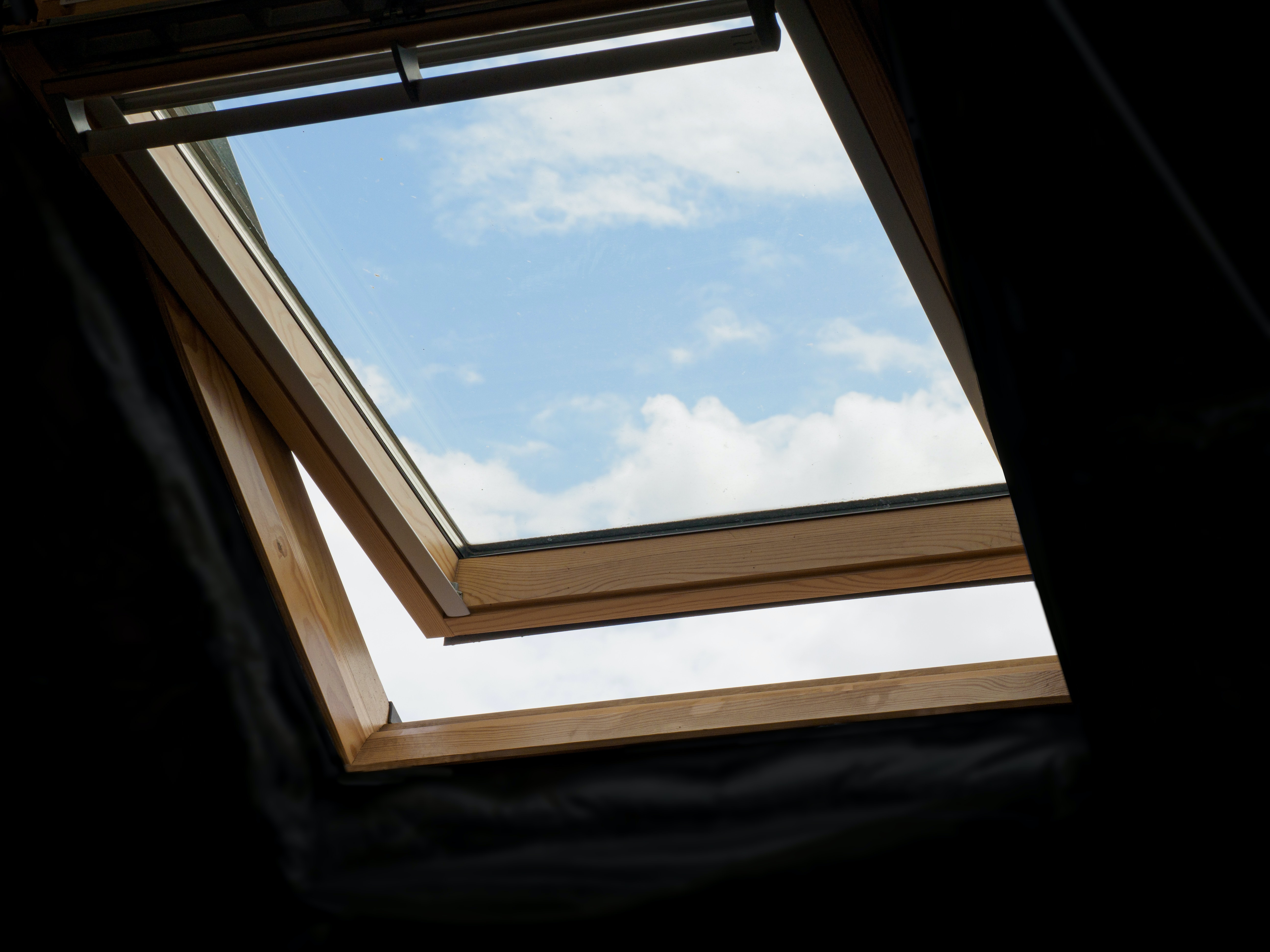 Skylights are a wonderful addition to any home. They allow natural light to enter through your roof, giving your home that "open" feeling. No shade to windows, we know you're doing the best you can. However, if you're able to invest in a skylight or 2, your home's curb appeal will be seriously heightened. So, where do you start? What are the different kinds of skylights? How long will my skylights last?
We know, there are many questions associated with the skylight process, and RoofCrafters is here to help ease your anxieties. We've been installing and repairing skylights for nearly 3 decades now, and we've just about heard it all. That being said, we've compiled the most commonly asked questions regarding skylights from homeowners just like you into this article.
We're glad you're here, because, by the end of this article, you'll have a much better understanding of the most common types of skylights available for your home, their average life expectancies, how often you need to be replacing your skylights, and the costs associated with replacement. Let's get started!
What You Need to Know About Skylights
Before you invest in a skylight, there are a few things you should know. This includes:
The different types of skylights
Average skylight life expectancy
How often should you replace your skylight + the cost of replacement
What Are the Different Types of Skylights?
The company, VELUX, specializes in skylight products and installation methods and is by far the most sought-after skylight enterprise in North America. There are four main types of skylights VELUX offers for your home, which are:
Solar power
Electric
Manual
Fixed
Solar Power Skylights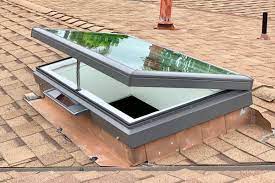 Photo Credit: Roper Roofing & Solar
Solar energy is becoming more and more popular each year, and now, even skylights have hopped on board the energy-efficiency train. With VELUX solar-powered skylights, you get the look of a traditionally beautiful skylight without the added expense of electricity to your utility bill each month. Solar-powered skylights can operate without having to be wired to your home. Each skylight has its own contained solar cell that charges its internal battery, allowing you the convenience of a fully functional skylight without unnecessary power drainage.
Electric Skylights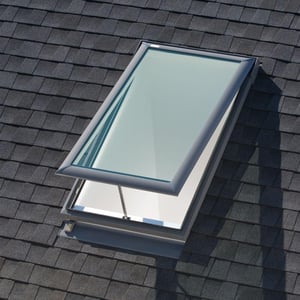 Photo Credit: SolarTown
VELUX also offers electric skylights which can be opened and closed with the touch of a button. It's that simple. The cool thing about this skylight is that it has a rain sensor that will automatically close the skylight if unfavorable weather approaches while it's open. So, if you leave your home without closing your skylight and a surprise storm comes your way. VELUX has your back. This electric skylight is undoubtedly beautiful, currently being offered in a smooth design, and comes pre-finished with white frames. Not to mention, there's already a complete line of flashing systems to ensure a watertight seal.
Manual Skylights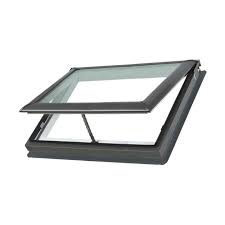 Photo Credit: SolarTown
Manual skylights, or as VELUX refers to them, "fresh air" skylights are a take on the more traditional skylight. They're simple yet stunning in design and are straightforward when it comes to operation. Unlike solar and electric skylights, the manual skylight opens and closes by hand with a turning handle inside of your home, and a rod if your skylight happens to be out of reach. Think back to the crank windows in your favorite car in the '80s, only this time, you'll enjoy opening and closing your window.
Fixed Skylights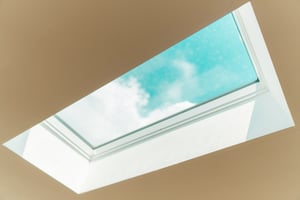 Last but certainly not least, you have your fixed skylight. Fixed skylights are by far the most common type of skylight available, but it's important to note that unlike the other skylights previously mentioned, fixed skylights are not able to open. This isn't necessarily a bad thing, though! With fixed skylights, you'll still achieve the same "open room" feel, while resting assured that you have the most watertight skylight on the market. No leaks, no problems.
How Long Will My Skylight Last?
Now that you know the difference between the four types of skylights offered by VELUX, how long will they last? Generally, you can expect your skylight to last anywhere between 8-15 years depending on how well it was installed, as well as the quality of its manufacturing. However, with VELUX skylights, you'll be receiving a top-tier manufactured skylight as well as installation. Not every company is built the same, though.
If a skylight is installed improperly, this can lead to future leaks where the skylight edges meet your home's frame. Another thing that can affect the lifespan of your skylight is wearing from harsh weather conditions and the blazing sun for those of us living in the Southeast especially. The heat from the sun and the force from thunderstorms can cause the caulking and sealer to break down, eventually leading to leaks and a nonfunctioning skylight.
How Often Should I Replace My Skylight?
Since your skylight is expected to last anywhere from 8 to 15 years, a general rule of thumb to follow is to replace your skylight every 10 years. When you opt to replace your skylight before the bitter end ensues, there's no risk of losing out on your natural light if a problem should occur by waiting. If you're not currently experiencing any problems with your skylight though, it can be easy to forget that just like your roof, it needs to be replaced every once in a while.
So, RoofCrafters recommends inspecting them at least once a year to make sure they're functioning at their highest level. When it does come time for your replacement, these costs can range anywhere from $1,200-$3,200, with an average cost of $1,800. The components that affect the potential cost of your new skylight include a new window in addition to changing any abnormalities to the opening itself.
Are Skylights a Good Addition to My Home?
Skylights are a great addition to any home, including yours! Allowing natural light to shine through your roof and not just your windows is highly rewarding. Not only are you providing yourself and your family with vitamin D, but your home will have a cozier, yet larger feel to it. Watching the rain fall onto your skylight while you turn on a movie on Saturday night, and waking up the following morning to the sun pouring over your kitchen floors is a feeling like no other.
Now that you have a pretty good idea of what the different types of VELUX skylights have to offer, you're ready to choose which one will function the best with your roof and home. Be sure to get in contact with your local roofing contractor for a professional inspection before you make your final decision. If you're struggling to find the best contractor for the job, be sure to download "The Top 10 Most Critical Questions You Want to Ask Your Potential Roofing Contractor".
This checklist includes several different prompts to ask your roofer to prepare you to hold the company accountable for its quality of work and services. In the meantime, feel free to check out the extensive resources located in our learning center. I recommend reading, "How to Find the Right Roofing Contractor" next, so you can learn how to find the roofer best suited for your project.
At RoofCrafters, our mission is to provide job opportunities for others to thrive and grow while making a meaningful impact within our communities.