Senate Bill 76: Effects on Homeowners and The Roofing Industry
March , 2022 | 6 min. read
By Kevin Mills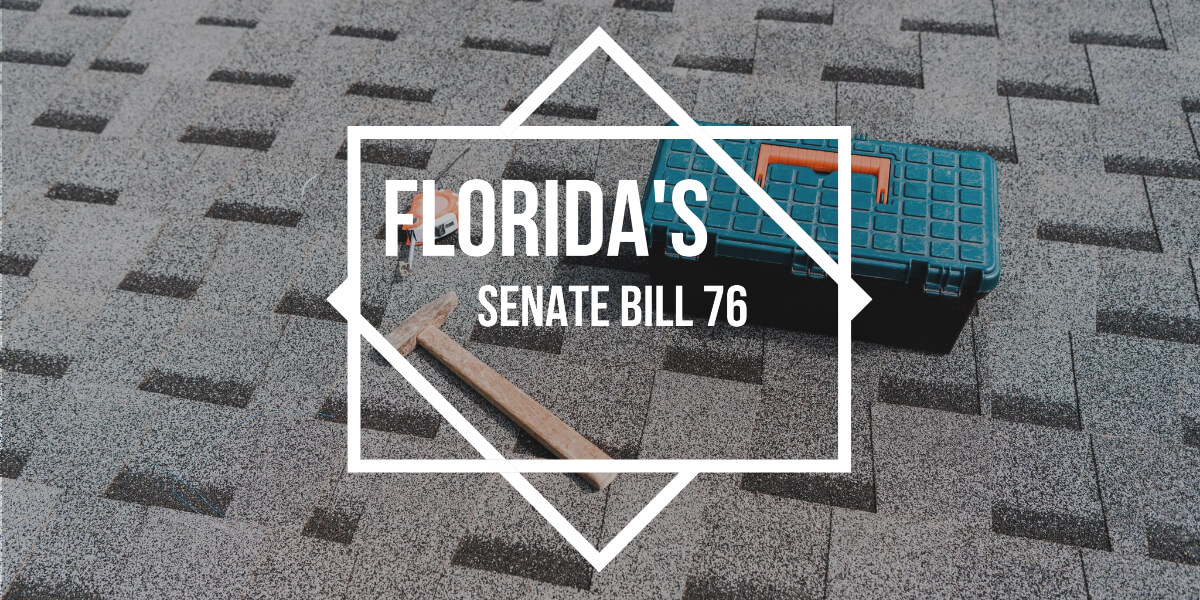 According to most tourists, Florida is famous for its oranges, tropical climate, and beautiful white sandy beaches. The sunshine state is the perfect getaway for any family, couple, or even a solo trip. If you ask a Florida native what they think of their home state, their answer is going to differ a bit. Or, a lot. As a Floridian myself, the sun is blistering hot, the mosquitos seek vengeance on the innocent, and hurricane season can be downright terrifying.
Hurricane season affects many aspects of our lives here in Florida, and most recently, it's largely affected the roofing industry. RoofCrafters has been aiding homeowners in disaster relief efforts for nearly 3 decades now and has seen firsthand how important certain laws and policies are.
Sadly, a number of homeowners and even contractors have made false storm damage claims, resulting in insurance fraud. Because of that, Florida was forced to update its law regarding roofing regulations. These changes took effect in July of 2021 and are designed to protect against fraudulent roofing insurance claims. The law updates how homeowners can make insurance claims for roofing, as well as how insurance and roofing companies handle said claims.
If you're reading this article, you're either a Floridian native or a property owner, and you're wondering how this law will affect your roof investment in the long run. You're in the right place because, in this article, we'll break down exactly what this law entails, what your contractor is able to do, what a public adjuster is and how they can help you, and why every homeowner should use a public adjuster to file their roofing claim instead of their insurance company. Let's jump right in!
What is the Florida Roofing Regulation Law of 2021?
Florida may seem like a lawless place to those who come to visit on spring break or Miami vacations, but actually, this tropical treasure has some of the most extensive and strict roofing laws in the country due to its extreme climate, strong winds, and storms. As of July 1st of 2021, Senate Bill 76 was put into place.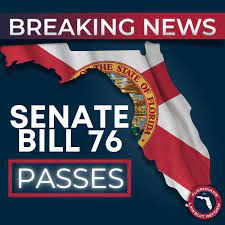 Essentially, this new law changes how homeowners can get their roofs repaired or replaced, as well as how roofing contractors and insurance companies handle claims and how homeowners can make said claims. Why? Well, to keep it short and sweet, Florida has detected one too many fraudulent storm insurance claims and was forced to crack down on the roofing industry and homeowners alike.
What Does Senate Bill 76 Change?
Under this newly instated law, homeowners and contractors can expect the following changes:
If your roof is older than ten years, an insurance company can reduce coverage based on your roof's type and age

If your roof is less than ten years old, your insurance company must cover your roof replacement in full

Supplemental and property insurance, as well as reopened claims, must be filed within two years of the incident

Insurance companies can offer roof coverage at a state value limit to homeowners

Contractors can't offer incentives to homeowners, nor accept incentives for referrals

Roofing contractors are no longer allowed to solicit door-to-door business
What is My Florida Roofing Contractor Allowed to Do?
Because of this new law, sadly, there are a lot of changes to the way your contractors of the past, present, and future are allowed to conduct their business with you and other homeowners alike. The main change this law has caused is making it illegal to solicit business door-to-door, as well as offering and accepting incentives. Essentially, a roofing company can't just come to your door and allure you into doing business with them, entice you in any way, or even provide referrals.
Roofing is an archaic industry, and many companies rely solely on door-to-door marketing and solicitation in order for their business to thrive. Sadly, many of the "good guys" will and have gone out of business due to this sanction.
However, eliminating this type of sales pitch can be seen as a good thing. Oftentimes, salesmen who show up uninvited to the home leave the homeowners wondering if the contractor's services are a scam. Which, as we now know due to the passing of this law, many of these contractors have, in fact, been insurance scammers.
Because of this, reputable roofing companies must be extremely diligent about insurance claims. Once your contractor knows there is an insurance claim involved, you as the homeowner must refer back to a public adjuster. Contractors with integrity encourage this. Keep notes on your claim, make sure you know the date of loss, and have the damage assessed immediately.
What is a Public Adjuster?
Think of a public adjuster as your own personal superhero. According to the Florida Association of Public Insurance Adjusters, "​a public insurance adjuster is a licensed and bonded insurance professional who assists policyholders with the complicated insurance claim process when they suffer an insured loss. Public Insurance Adjusters who belong to the Florida Association of Public insurance adjusters adhere to a strict Code of Ethics and are able to take advantage of the best quality, public adjuster specific, continuing education in the country."
Basically, a public adjuster's sole purpose is to fight for you. Their main responsibility is to protect you and your interests in claims against a loss with your insurance company.
Pretty cool, right? If you and your family have seen better days, and you've just suffered through a hurricane or another Act of God that's left your home in shambles, it's safe to say you're not in an emotionally sound place to learn the proper etiquette when it comes to presenting your insurance claim.

That's where a public adjuster comes into play. While you can focus on what really matters, such as taking care of your family, relocating yourselves and your things, and remaining calm, a trusted, qualified, and trained public insurance adjuster will help make sure you meet all of the policy conditions, document your loss and get your claim paid. They can alleviate your stress of understanding a multitude of technical and legal jargon, stipulations and regulations, and every other insurance-claim-related gibberish under the sun.
Should I Use a Public Adjuster to Present My Storm Damage Claim?
At the end of the day, it all boils down to personal preference. If you feel comfortable with your organizational skills, knowledge of legal terminology, and have documented every aspect of your claim, feel free to present it to your insurance company yourself. If the thought of that makes you sweat, it's probably a good idea to hire a public adjuster.
SB-76 has obviously affected the way homeowners and roofing contractors are allowed to go about our business quite a bit. Now that you have the knowledge, it's important to put it to use. Always remember to keep track of your claims, be open and honest with your roofing contractor, and if you see fit, get in touch with a public adjuster as soon as possible.
Whew, that was a lot of information. We know this stuff can be tricky, and we want to make sure you have all of the information necessary to make an informed decision about your roofing claim. For more information on insurance coverage, check out our article on what your homeowner's insurance will and won't cover. If you'd prefer to chat with an expert instead, feel free to drop us a line.
My name is Kevin Mills, and I am the lead estimator for RoofCrafters' Tampa division. I'm originally from Michigan, and I enjoy hunting, fishing, and spending any free time outdoors. What I'm most passionate about, though, is helping business owners and homeowners alike achieve their roofing goals, all while providing a seamless customer journey.