Hurricane-Proof Your Roof
September , 2022 | 6 min. read
Although hurricanes are seemingly a regular event in Florida, the irreversible damage and destruction that could potentially come along with them never get any less ominous. As Hurricane Ian approaches Florida's west coast, homeowner's across the state are feeling a looming feeling of uncertainty. For many of us, the stakes are even higher due to the non-renewal notices that have been received by homeowners left and right statewide.
Whether you're visiting your vacation cottage, or Florida is your home base, can you be confident that your roof is ready to weather the storm? RoofCrafters has been aiding homeowners like you in hurricane relief efforts since we've been in business in '94, and we've seen just how bad things pre and post-hurricane can get. However, we also know that many of these issues can be avoided with proper roof preparation before the cyclone strikes, ultimately saving your entire home, let alone just your roof.
Although our skies have been soaked in sunshine for the majority of the fall so far, Mother Nature snapped her fingers and suddenly we're 3 days out from our first possible hurricane of the season. So, it's best to be prepared for anything. That being said, in this article, you'll learn the steps to take to properly hurricane-proof your roof. Let's get started!
Why Do I Need to Hurricane-Proof My Roof?
Hurricane preparation should start well in advance of the storm, however, If you're new to the Sunshine State (or Hurricane Haven in this case), there's probably a thing or two that you're unaware of in the final days or hours before the storm hits. For us Florida natives, it's common knowledge that if the brunt of the storm is coming to your area, it's necessary to hurricane-proof your windows. What about my roof? Exactly! What about your roof?
Oftentimes homeowners overlook preparing their roofs for a hurricane and only focus on windows and entryways. While that's also incredibly important, the most significant thing when it comes to preparing for a hurricane is protecting your roof, especially if you have an older home and a roof that's lived long enough to have seen the downfall of NSYNC. It still hurts, I know.
If a hurricane damages your roof, your home will be left vulnerable to the elements. Any cracks or leaks can worsen as the storm strengthens, leading to an influx of water entering your home and potentially damaging your belongings. Worse than that, this puts your entire family at risk.
Whether you're new to Florida, born and raised, or somewhere in between tropical storms and hurricanes are just another regular part of life. In the summertime, you can bet your bottom dollar that it will rain every afternoon or evening. That being said, just because these intense storms are normalized, that doesn't mean we should ignore the havoc they oftentimes wreak. Protecting your roof against a hurricane should be at the very top of your metaphorical priority list.
How Do I Hurricane-Proof My Roof?
Now that you understand why hurricane-proofing your roof is of the utmost importance, let's go over how exactly you do so, shall we? If a hurricane's approaching your area, here are a few last-ditch efforts you can take before the storm hits
Install roof straps
Trim low-hanging branches
Clear your gutters and drainage systems
Keep a tarp handy


Installing Roof Straps
When it comes to the best option for hurricane roof preparation, roof straps are at the frontline. While installing roof straps is something that should be done well in advance of hurricane season, it reigns supreme as the most important step in storm preparation. Roof straps are metal ties that keep your roof trusses, or framework attached to your home. They are an evolving technology that advances each year and are extremely important in hurricane preparedness. These metal ties or straps go over the rafters of your roof and essentially hold your ceiling and roof together, thus making it more difficult for your roof to be removed due to hurricane-strength winds.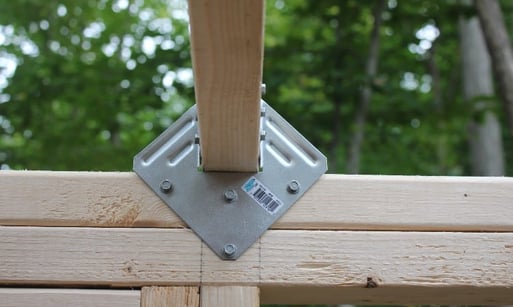 Photo Credit: Plasticine House
So, how do you install roof straps? Newer homes in hurricane-prone areas tend to already have them installed, but if you're living in an older home, you may have to install them yourself. It may seem like a daunting DIY, but roof straps can potentially save your roof from hurricane-force winds helping you to avoid repairs or replacements in the future.
Your trusted roofing contractor will be happy to assist in your roof strap project, but if you're endeavoring into a DIY project, hurricane straps should be attached at the points where the rafters come over the studs. By using a twisted strap, you'll be able to attach the rafter to the stud for a stronger foundation. Now, if your studs and rafters don't align, you'll need to attach structural ties to the top plate and joists, as well as the rafters to the top plate.
Trimming Trees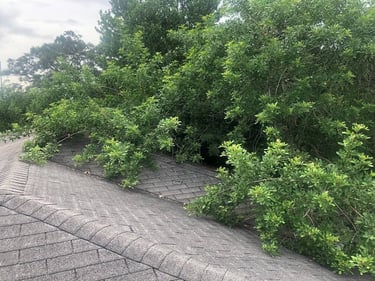 Fallen tree branches and even trees themselves are very common occurrences during hurricanes. Strong hurricane winds are capable of nearly anything, including uprooting trees in front of your home and causing large branches to come crashing down on your roof.
In hurricane-prone areas, It's important to consider having any large trees near your home removed. However, if that's not possible, be sure to have any large branches or limbs trimmed before hurricane season.
Clearing Debris
Hurricanes bring more than just intense winds. If a hurricane's due to hit your area, expect a torrential downpour. That being said, your gutters must be properly prepared beforehand. Be sure to clear all debris clogging your gutters and drainage systems. If you don't, you risk flooding and potential roof leaks, leading to even more damage than the hurricane itself would cause. So, be sure to give your gutters a little TLC before the storm hits.
Tarping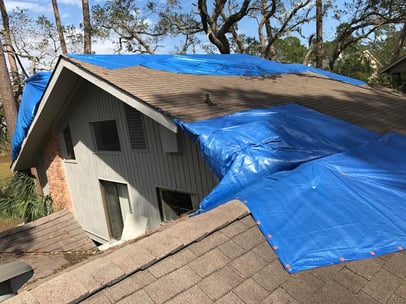 It may go without saying, but for those who don't know, having a tarp on hand during hurricane season is a staple. The more tarps you have, the better. Some homeowners like to put tarps over their roofs which act as a protective layer for their shingles or tiles. Tarps are versatile and can be used in a variety of places and ways. Putting tarps over windows and other vulnerable spots on your roof or home are great ways to prevent any detrimental hurricane damage.
Should I Hurricane-Proof My Roof?
If you take these precautions before hurricane season or the storm itself, your roof will be able to withstand the storm. The one thing that I cannot stress enough about is having a preseason inspection conducted as soon as possible. Being proactive and prepared is what will save your roof, and ultimately your home and other belongings.
Now that you know all of the preventative measures to take before a hurricane, it's time to schedule your inspection or any necessary repairs. Finding a qualified contractor in your area may seem tricky, but with our "Top 10 Most Critical Questions You want to Ask Your Potential Roofing Contractor", finding a roofer you feel most comfortable to complete the job will be a breeze.
In the meantime, feel free to browse through the extensive resources located in our learning center. I recommend reading "Does Insurance Cover Storm Damage to a Roof?" to be better educated about what comes out of your pocket if storm damage does occur.
At RoofCrafters, our mission is to provide job opportunities for others to thrive and grow while making a meaningful impact within our communities.