How Do I Pick the Best Color for My Roof?
August , 2022 | 7 min. read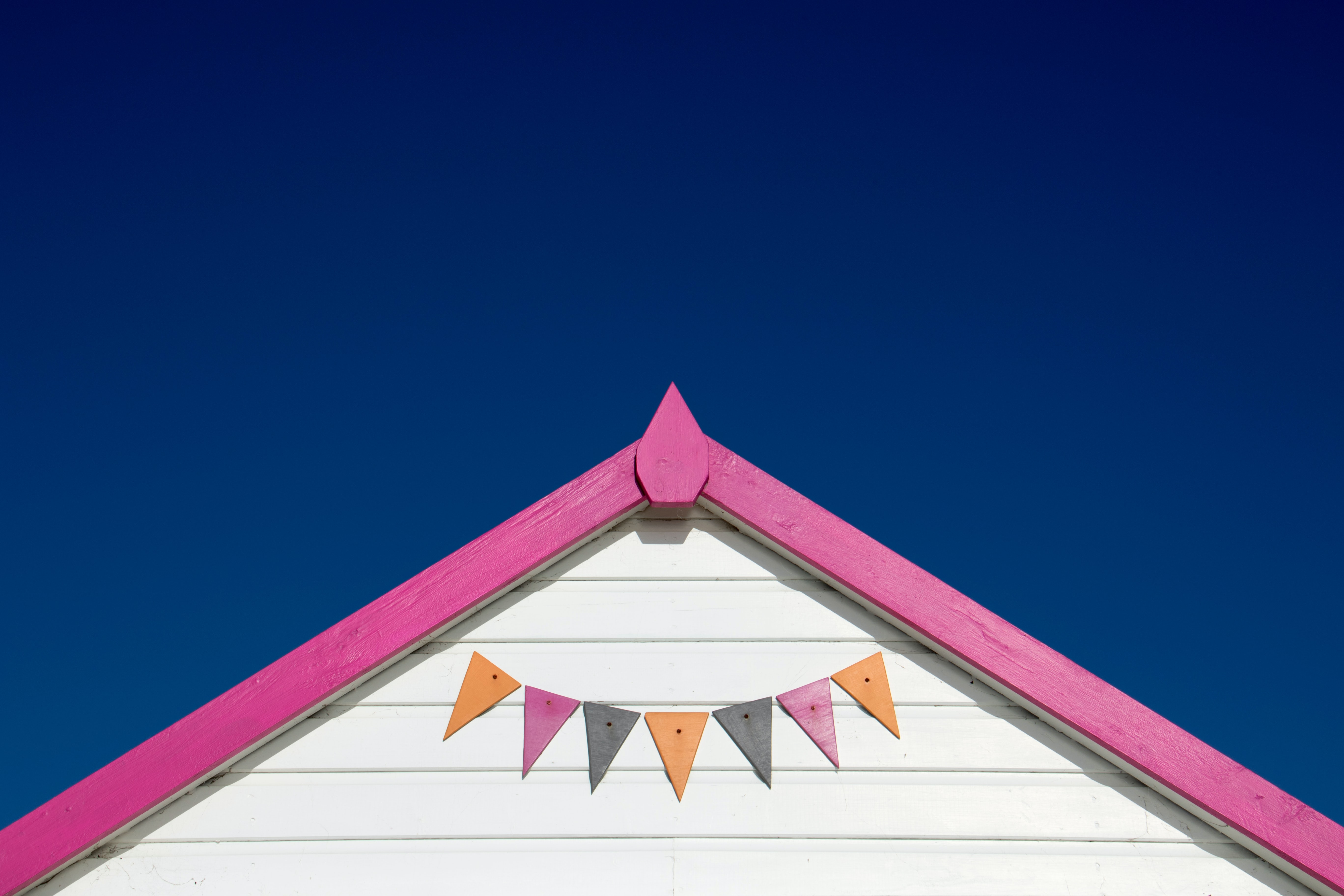 Choosing the color of a roof is oftentimes one of the most difficult decisions a homeowner must make when undergoing a new roof installation. One wrong color miscalculation can ruin your entire home, forcing you and your family to move into a van down by the river. Okay, maybe I'm just channeling my inner Chris Farley and being dramatic, but it is a big deal!
The color of your roof is what ties your home's exterior design together. If a strange color combination is chosen because you've been misguided, or the color isn't quite what you were anticipating once it's been installed, this can lead to anxiety, buyer's remorse, and possibly a large check to the local painting contractor to color match your siding to your new roof.
At RoofCrafters, we've been installing new roofs for homeowners just like you for the past 30 years, and any anxiety related to the color of your new roof is something we've flawlessly been able to avoid. With each estimate, we provide you with color charts to browse through while we complete our inspection.
However, you should have the education and knowledge to anticipate what color roof you wish to have installed before your initial inspection commences. It's a good thing you're here, because, in this article, you'll learn 5 easy tips for picking the best color for your roof provided by our experts here at RoofCrafters. Let's jump right in!
How Do I Pick the Best Color for My Roof?
So, how do you know which color is the best for your roof? Before we can answer this big question, there are a few important things to note:
What is the style of your home?
What type of material would you use for your roof?
What is the pitch of your roof?
You wouldn't go out to your favorite restaurant wearing a red flannel, purple polka-dot pants, and a yellow sombrero, would you? As important as it is to make sure your outfits match, it's equally important to do the same for your roof and home. Always ensure the style of your home matches the style of the new roof you desire.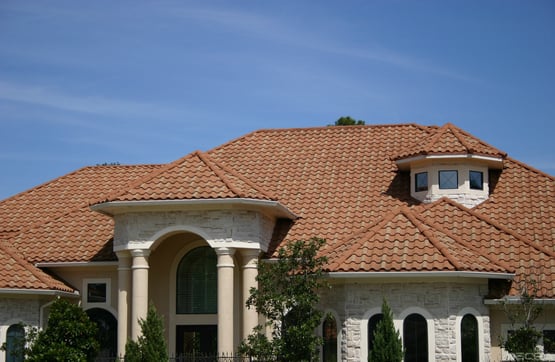 Are you the modern type? Or do you find pleasure in a more rustic, woodsy style? Believe it or not, these are the important questions you need to be asking yourself. The type of material you choose depends on what look you want to achieve.
Just as you want your color schemes to match, the pitch and style of your roof will clash with certain materials. The steepness of your roof, as well as your roof's style, will help you determine the right colors and materials that should ultimately be used.
There are 5 things you should consider when choosing the color of your homes roofing system to amp up your curb appeal a suit your style:
Your preference for light and dark colors
The color of the siding on your home
The most common color combinations
The location of your home
Your personal preference
1. Which is Better – Light or Dark?
When choosing a color scheme, we always like to ask you first. After all, it is a personal preference. So, what do you like better? A contrast or a blend? A contrast would be a light-colored home paired with a dark roof. Think of a white home, with a black roof. Chic, huh?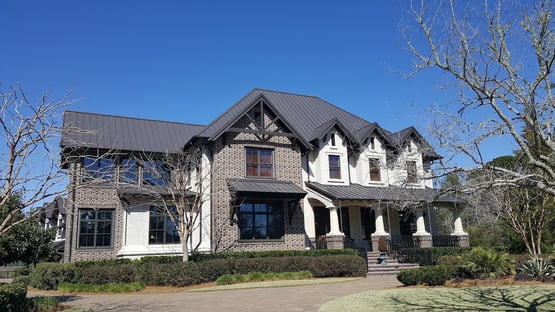 Now, how about a dark-colored home and a light roof? Perhaps a beige home paired with a white roof. That sounds pretty cool!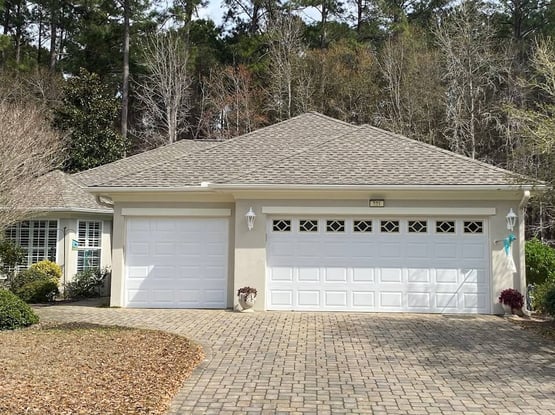 You can also choose to do a blend. A blend is where we match the roof as close as we can to the color of the rest of the home. An example of this would be a grey stucco home and a grey roof. You've got a lot to choose from!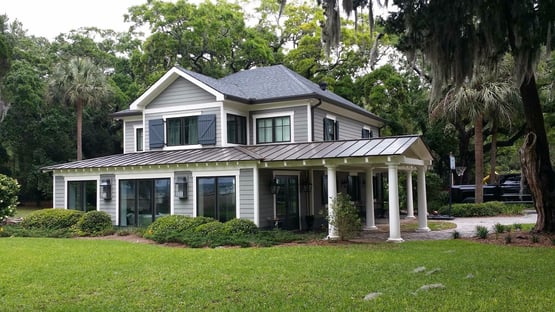 2. The Color of Your Siding
You must evaluate the structure and color of the exterior of your home before choosing the roof's color. It can be beneficial if you are planning to repaint your home when replacing or constructing the roof. This will help you create eye-catching combinations, and earn your money's worth if you choose to sell in the future.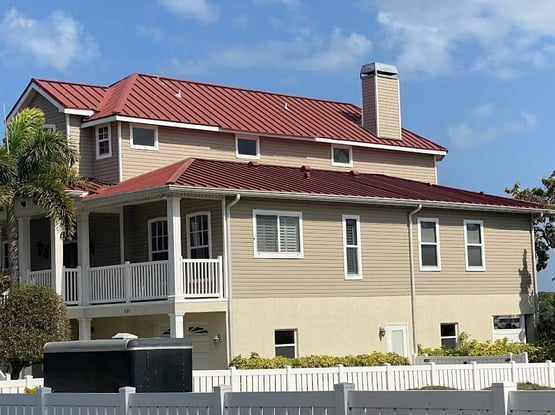 The color of the roof will either shift the potential buyer's focus or grab it. Therefore, whatever roof color you pick, it is a great idea to have a plan of what you are doing with the rest of the exterior siding and color before selecting your new roof color. No pressure, just something to think about.
3. Common Color Combinations
If you don't know which colors look good together or what colors clash, we've created a list of common color combinations you can try. Let's take a look at what they are:
White. White is, without a doubt, one of the most versatile colors. For this reason, if your home is white, you can choose any roof color that you'd like. Nothing clashes with white.
Cream. If your home is along the lines of cream and taupe, hues of blue, black, green, or gray will look great.
Wooden. Wood comes in many different shades and colors. Typically, wooden homes look great with black, green, gray, blue, or even brown roofs.
*Pro-tip: when picking a roof color for a wooden home, remember to keep it simple and pick a color that diverts everyone's attention to other property elements*
Red. Red is a bright color on its own, so it's better to pair it with darker, more subtle shades. Usually, red looks great with black or gray.
Gray. If your home is gray, the safest bet would be to install a black or gray roof. Other colors, such as white or pewter would also look great.
4. Location of Your Home
The location of your home will help determine the colors that would look best for your roofing system. In addition to the weather, you must also look at the type of sunlight and vegetation in your area.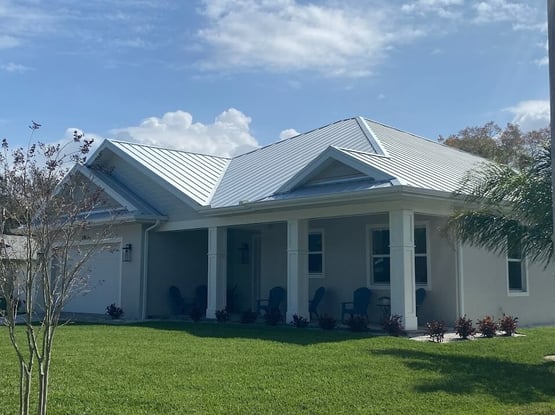 A lighter color roof will help reflect the heat in warmer zones, whereas in colder regions, a dark roof will help absorb heat and keep your home warm. Additionally, the type of landscape you have around you will also play a factor in choosing the right color for your roof.
5. Your Personal Preference
Cruise around your neighborhood and take a mental note of your style and design preferences. It could also be helpful to create a board of ideas and discuss them with a professional roofer.
If there's anything you'll take from this article, simply remember to match the style of your home with that of the roof. You can always re-paint your home, later on, however, it's much more challenging to get an entirely new roof installed.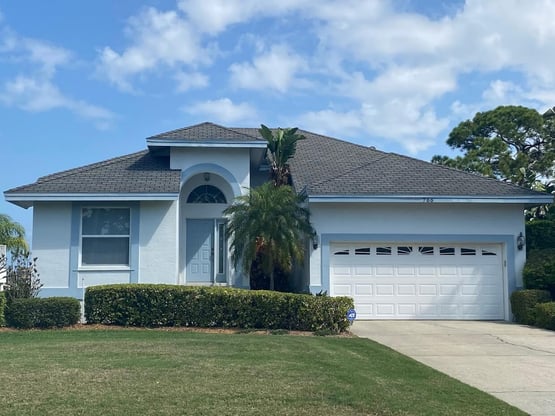 If your home is chic and modern, don't go for outdated color themes. In contrast, if your home is made with bricks and has vintage architecture, it's better to match the roofing with something that will complement that particular style.
Which Color Should I Choose for My Roof?
You should choose whichever color your heart desires! In the end, we buy homes to enjoy living in them by decorating and tailoring them to our styles, not to feel restricted by other people's aesthetic guidelines. Take this article as a mere guide, and choose whichever color option suits you best. There's no right or wrong color to choose, we promise.
If you're someone who needs a more technical answer, this article explains that the most aesthetically pleasing roofs tend to be neutral-colored. This includes tan, brown, black, and gray. These colors tend to stay in style over time, along with roofs including shingles that are mixed with different color combinations of browns, blacks, and grays.
This article is meant to point you in the right direction. You know, if you are a flannel, purple polka-dot pant, yellow sombrero-wearing type of person. Some color schemes simply look better together than others, as well as material types and roof pitch.
When you're ready to maximize your home's curb appeal and be the talk of the neighborhood, consult this article and use it to your advantage be sure to drop RoofCrafters a line with any roof color questions or material concerns. One of our experts will consult with you as soon as possible to discuss your options!
My name is Cassie, and I'm the Content Manager here at RoofCrafters. I was born and raised in Chicago, Illinois, and made my way out to Florida post-college graduation. I'm incredibly passionate about writing and creating valuable content that helps others with the collaboration of my marketing team. When I'm not working, I enjoy shopping (a little too much), spending time at the beach, and reading!